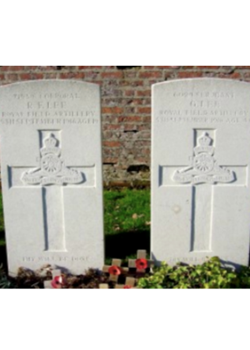 Father and Son
6029 Sergeant George Oliver Lee
'A' Battery 156th Bde Royal Field Artillery
Age 44
Husband of Frances of 16 Telfourd Rd, Peckham, London.
Buried Grave I A 35 alongside his son.
71939 Corporal Robert Lee
'A' Battery 156th Bde Royal Field Artillery
Age 19
Son of Sergeant George Lee, son of Frances.
Buried alongside his father: Dartmoor Cemetery, north-east of the village of Becordel-Becourt. Grave I A 36
At the 1911 Census George, and his wife Frances (both from Scotland, George was born in Dunbarton) and son lived at 490 New Cross Road, Depford. George and Frances ran a pub. 
14 January, 1915 Mayor of Camberwell was authorised to recruit a brigade of field artillery and it was thus that 156th Brigade of the Royal Field Artillery was formed. Those living near to Peckham, which would have included George and Robert, were allowed to live at home, whereas others were housed in Gordon's Brewery and at the Tramway Depot. (1)
On 19 May 1915 they embarked for France, forming part of 33rd Division, III Corps of the IVth Army.
Each brigade was made up of four guns: three 18-pdr batteries and one howitzer battery, later increasing to six guns per battery, though adjusting in size according to losses and replacements.
Starting on La Bassée Front in early 1916, the 33rd Division then moved down towards the Somme by train on 14 July.
Sergeant Lee and his son Corporal Lee, in the same Brigade, though not necessarily on the same gun, then took part in 'The Battle of the Somme' for eight continuous weeks - with one rest of ten days in the middle'.
During this period eight different divisions were covered by the batteries, with fourteen separate attacks given support by 33rd Division Artillery. (2)
Throughout the period Royal Flying Corps artillery-observers in aircraft and balloons helped direct fire. (3)
On the 5th August there was heavy shelling with saw 167th Bde, 33rd Division Artillery, 'bombed out' and was reduced from three batteries of four guns each to form two six-gun batteries. 167th Bde were 'bombed out again on the 17th. It has to be wondered if something similar occurred to 156th Bde the following month leading to the deaths of Sgt and Cpl Lee.
At the end of August, the zone covered by 156th Bde extended along the High Wood- Bazentin le Petit road southwards from the north-west corner of the wood.
At this time a German counter-attack was made possible with the influx of fresh German division on the Somme. The German counter-attack began with artillery preparation on 31 August.
Every gun and howitzer of the 33rd was in action, directed from observations in an Old German trench that ran along the west of Delville Wood.
On 3 September, 'large numbers of the enemy were seen gathering in Switch Trench and entering the east corner of High Wood'. In response the guns of 33rd Division Artillery were switched round to deal with enemy counter-attack.
Perhaps Sergeant Lee and his son Corporal Lee were badly wounded on the 3rd or 4th September and evacuated to the rear?
If they died in fighting on the 5th September this was unfortunate as that morning the battery commanders of the 1st and 2nd New Zealand Field Artillery Brigades came up with once section apiece and began to take over the 33rd battery command. Relief was complete by the 6th September and the 156th moved to quieter spots at Bonnay and then onwards to Arras.
Sergeant Lee and his son Corporal Lee were just two of 117 'other ranks' killed during the actions of the 33rd Division on the Somme that summer.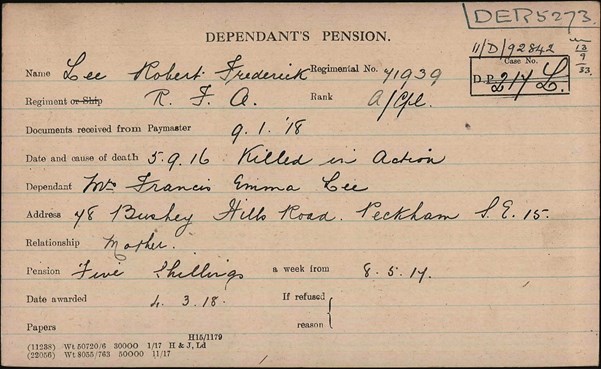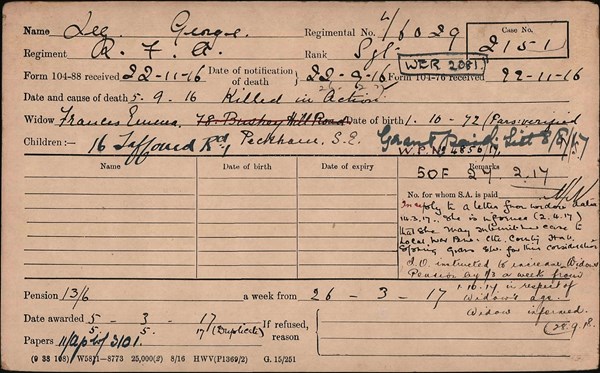 Frances, the wife of George and mother of Robert, was advised that she could apply for an increase to her pension; she did so and was successful.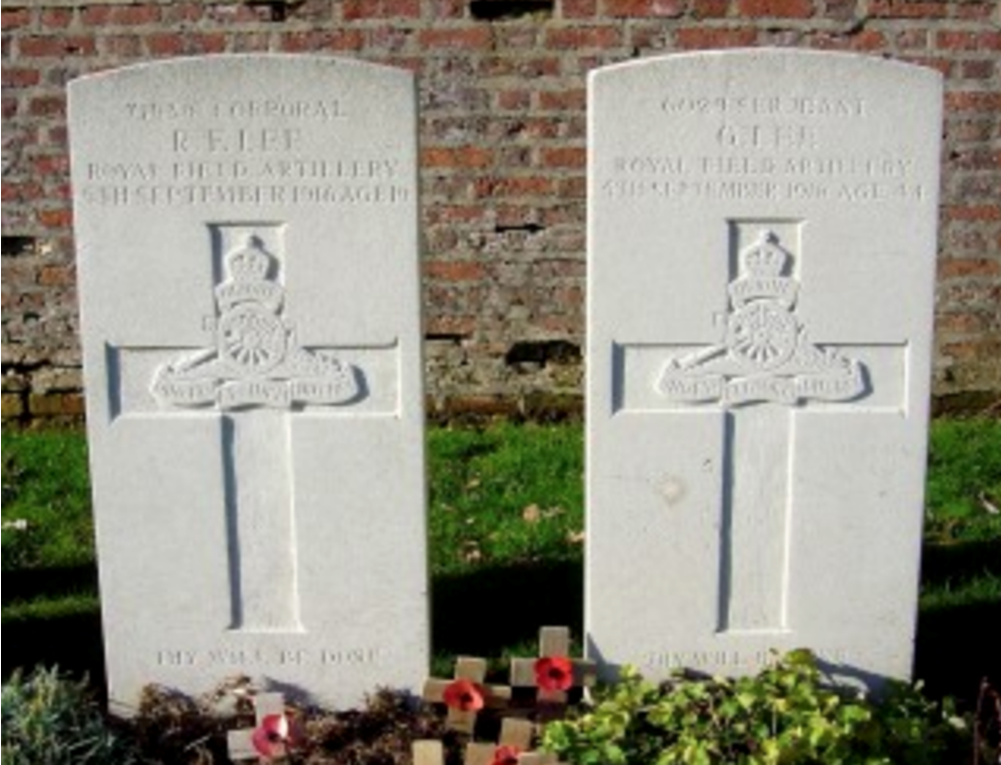 6029 Sergeant George Lee & 71939 Corporal Robert Lee
5 September 1916
IMAGE: Adjoining graves, Plot I, Row A, Son and Father side by side
REFERENCE
(1) p.2 The History of the 33rd Divisional Artillery in the War 1914-18. (p.1921) J, Macartney-Filgate. The Naval & Military Press Ltd. (Digital edition 2012).
(2) IBID pp 46-47.
(3) Harris J P (2008) p.257 Douglas Haig and the First World War. Cambridge.
(4) The History of the 33rd Divisional Artillery in the War 1914-18. (p.1921) J, Macartney-Filgate. The Naval & Military Press Ltd. (Digital edition 2012).
IMAGE: http://www.ww1battlefields.co.uk/somme/becourt.html 6029 Sergeant George Lee
Major & Mrs Holt's Definitive Battlefield Guide. Seventh GPS Edition. Somme 100th Anniversary (Kindle Edtion, Location 41%)
Webmatters.net. http://www.webmatters.net/txtpat/?id=294 (accessed 4 September 2016)
World War One Battlefield http://www.ww1battlefields.co.uk/somme/becourt.html (accessed 4 September 2016)
Pension Cards of Father and Son killed on the same day Western Front Association Pension Records on Fold3
IMAGE: Flickr River. (c) Owners (accessed 4 September 2016)