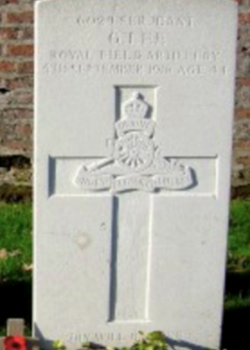 George Lee was born 6 October 1872 in Luss, Dunbartonshire
His parents were Frederick and Anne (née Lister). George's mother died within 2 weeks of his birth. Brothers Alexander and Charles (ages 13 and 14) and sister Louise (age 16) all died in 1881. His brother James died serving in Burma age 24 in 1894.
On 5 April 1896 he Married Frances Emma Ainsley. Their son Robert was born the following 22 January 1897.  
Age 20 George was in the Royal Field Artillery. 
156th Brigade of the Royal Field Artillery was formed in January, 1915. George and son Robert enlisted - training locally they initially stayed at home. 
19 May 1915 they embarked for France, forming part of 33rd Division, III Corps of the IVth Army.
Serving on the Somme at the end of August 1916, the zone covered by 156th Bde extended along the High Wood- Bazentin le Petit road southwards from the north-west corner of the wood. On 3 September, 'large numbers of the enemy were seen gathering in Switch Trench and entering the east corner of High Wood'. In response the guns of 33rd Division Artillery were switched round to deal with enemy counter-attack.
Sergeant Lee was just one of 117 'other ranks' killed during the actions of the 33rd Division on the Somme that day.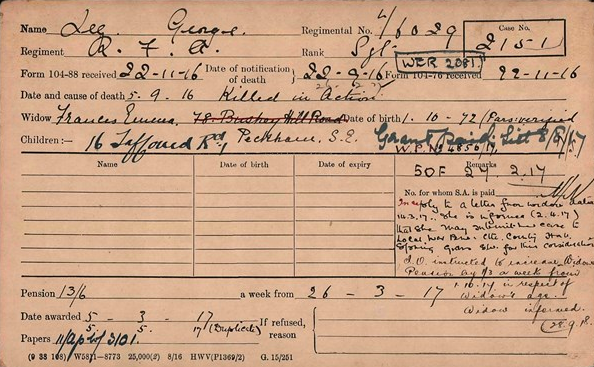 6029 Sergeant George Oliver Lee
'A' Battery 156th Bde Royal Field Artillery
Age 44
Husband of Frances of 16 Telfourd Rd, Peckham, London.
Buried Grave I A 35 alongside his son.