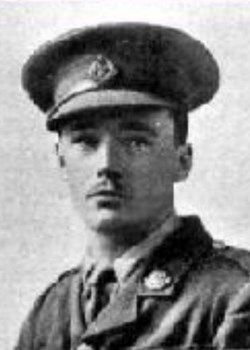 Gerald Seckham was born in Shortlands, Kent in 10 January 1893.
His parents were Gerald Seckham (barrister at law) and Rebecca Mary (known as 'Minnie') (née Adair).  
At the 1901 census Gerald junior was eight and he had a sister Nora, age five. They lived at the Lodge in Whittington, Shortlands, Kent. At some point he become known as 'Robin' - clearly as a way to differentiate between father and son. 
Ten years later the 18 year old Gerald Seckham (junior) was a cadet at the Royal Military College, Camberley, Surrey. 
Gerald 'Robin' Seckham was gazetted 2/Lt, East Lancashire Regiment, 14 February 1912 and was promoted to lieutenant in South Africa in 18 November of the same year.  
He was 21 years old when he was killed in action whilst manning an advance trench near Neuve Chapelle. He was mentioned in dispatches (Sir John French's dispatch of 31 May 1915) for rescuing a wounded man whilst under fire.
He is buried in Cabaret-Rouge CWGC cemetery, Souchez. At the time of his death his parents 
Lt Gerald 'Robin' Adair Seckham (MiD), 2nd Bn East Lancashire Regiment.
Research by David O'Mara with additional detail by Jonathan Vernon.
Sources: England Census 1901, 1911: Lives of the First World War; Du Ruvigny's Roll of Honour.