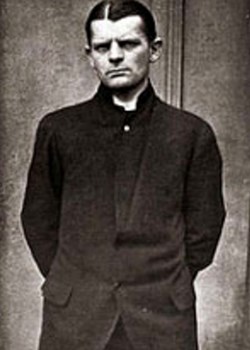 One of the German spies executed in the Tower of London during the First World War
6 November 1914, broke cold, foggy and bleak, and at a very early hour Lody was brought from his cell, and the grim procession formed up on the veranda of the Tower Main Guard. It was led by the Chaplain, solemnly reading the Burial Service, followed by the prisoner, with an armed escort marching on either side of him, and the firing-party of eight stalwart guardsman bringing up the rear.
Nobody liked this sort of thing. It was altogether too cold-blooded for an ordinary stomach (particularly that of a soldier, who hates cold-bloodedness) to face with equanimity, and it is not too much to say that, of that sad little procession, the calmest and most composed member was the condemned man himself....
A few moments later the procession disappeared through the doorway of the sinister shed, and shortly after that came the muffled sound of a single volley. Carl Lody had paid!
John Fraser, Yeoman Warder, 1914
Carl Hans Lody was born in Berlin on 20 January 1877. Following the death of both of his parents before he was eight, he entered an orphanage and later became an apprentice in a shop in Halle. In 1893, aged 16, he joined a sailing ship as a cabin boy and later studied at the German maritime academy, before joining the Imperial German Navy. Lody later went onto the naval reserve and obtained a captain's licence on merchant ships.
Above: Lody in Uniform
Following a serious illness he was unable to carry on with his career and, instead found employment as a guide with the Hamburg American Line. Following an unsuccessful marriage in America, Lody returned to Germany in early 1914 with a large sum from his former wife's rich parents as 'compensation'. Shortly after this he was recruited by German Naval Intelligence and - when war broke out - it was decided he should go to Scotland to monitor movements of Royal Navy ships in the Firth of Forth.
To help him, German Naval Intelligence had acquired an American passport in the name of Charles Inglis, which tied in with his American-accented English.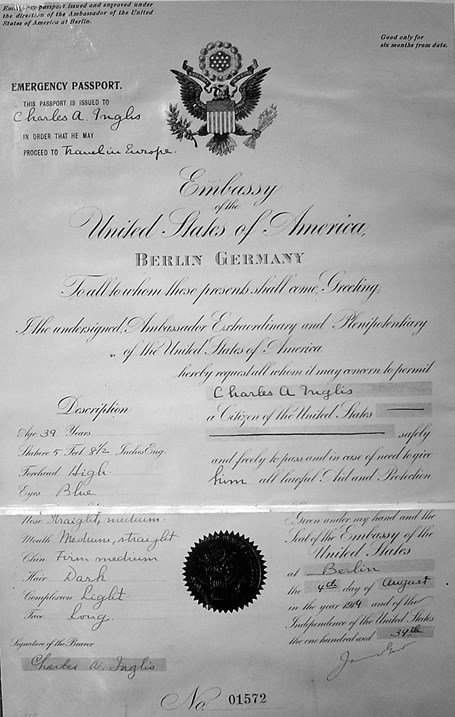 Above: Lody's American passport in the name of "Charles A. Inglis"
One of his handlers thought his chances of success were "practically nil" - he was despatched without even learning how to send messages in code. Posing as an American tourist, Lody travelled via Norway and arrived in Newcastle in late August 1914. He immediately moved on to Edinburgh, from where he sent a telegram to an address in Stockholm which was known by MO5(g) [later MI5] to be that of a German agent.
As the British Secret Service was now alerted to 'Charles Inglis' being a spy, Lody's mission was compromised before it had even started. Moving to a boarding house, Lody (as Inglis) sent a letter to the same Stockholm address. Within the envelope was a second envelope which contained a letter passing on totally inaccurate information about the transportation of masses of Russian troops through Britain destined to the Western Front. Obviously Lody was simply passing on rumours rather than accurate material. For this reason the letter (which had been opened and read by MO5(g)) was allowed to go on its way.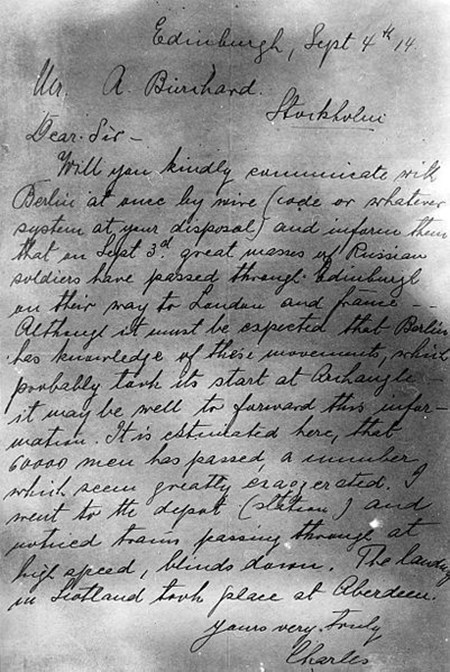 Above: Lody's letter of 4 September 1914, reporting as true the unfounded rumour that Russian troops had landed in Scotland and were travelling south by train
The letter read:
Will you kindly communicate with Berlin at once by wire (code or whatever system at your disposal) and inform them that on Sept. 3rd great masses of Russian soldiers have passed through Edinburgh on their way to London and France. Although it must be expected that Berlin has knowledge of these movements, which probably took its start at Archangel, it may be well to forward this information. It is estimated here that 60,000 men have passed, numbers which seem greatly exaggerated. I went to the depot [station] and noticed trains passing through at high speed, blinds down. The landing in Scotland took place at Aberdeen.
Yours very truly Charles.
His lack of training - using neither code or invisible inks - made the British Secret Service's job ridiculously easy. Further letters were intercepted and allowed to reach their destination in the hope that he would reveal details of other spies working in the UK. He spent a few days in London before returning to Edinburgh in mid September where he undertook further, ineffectual, espionage work.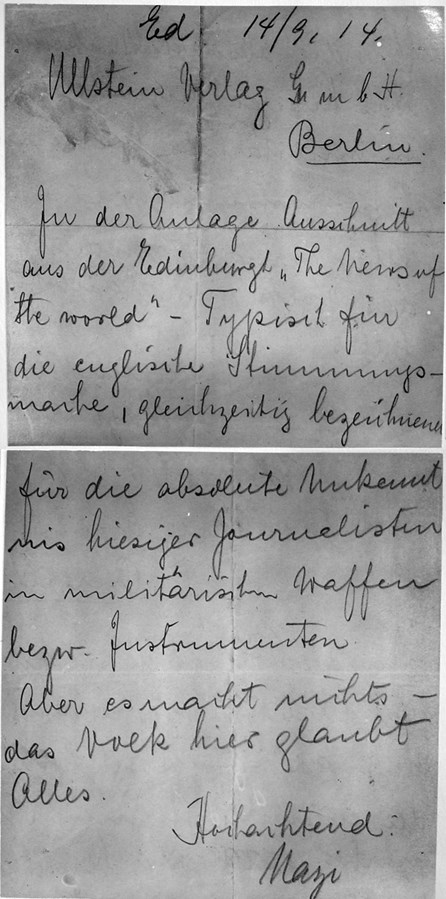 Above: Letter sent by Lody on 14 September 1914. The message reads: 
"Enclosed cutting from the Edinburgh The News of the World. Typical for the English way of causing ill-feeling and at the same time characteristic of the perfect ignorance of journalists in this country regarding the difference between military weapons and military tools. But this does not make any difference - the people here believe everything. Yours truly, Nazi." [The name "Nazi" was a nickname for the male name Ignatz (Ignatius).]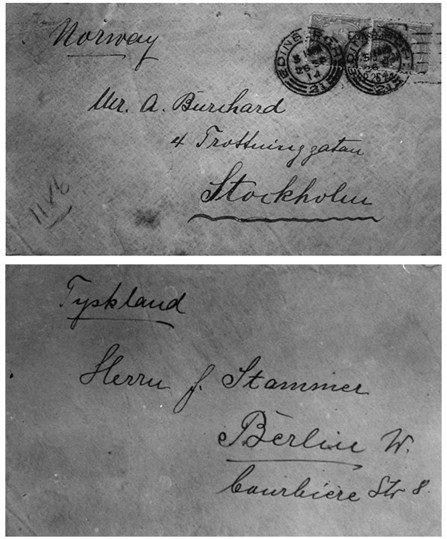 Above: Envelopes sent by Lody from Edinburgh, 26 September 1914. The first envelope was sent to a cover address in Sweden; the second envelope, which enclosed the letter, was concealed inside the first and was addressed to Lody's controllers in Berlin.
Fearing he was arousing the suspicions of his landlady, he decided to head to Dublin, again his letter was intercepted and - because (for once) it contained information of value - it was not forwarded.
Writing from Dublin, further letters were intercepted and - deemed again to be of value - were not allowed to continue to his handlers . By now the British decided that Lody should be arrested and the Royal Irish Constabulary was given instructions on the morning of 2 October - he was found in his hotel later that day. On his arrest, he was found to be carrying German gold, a note book with details of British ships and a receipt from a Berlin tailor in his real name.
Lody's trial (uniquely not held in secret) took place at the end of October at Middlesex Guildhall in Parliament Square (now the Supreme Court of the United Kingdom). During the proceedings a humorous incident occurred, reported by the Daily Express on 31 October 1914. Lody's landlady was asked if she could see Charles Inglis (ie Lody) in court:
"...she looked everywhere except at the dock. Lody, who was sitting, stood up and gently waved his hands to attract her attention, while he smiled broadly and almost broke into laughter at the absurdity of the situation."
When he came to give evidence, Lody said that he had been sent to the UK "to remain until the first [naval] encounter had taken place between the two Powers, and to send accurate information as regards the actual losses of the British Fleet".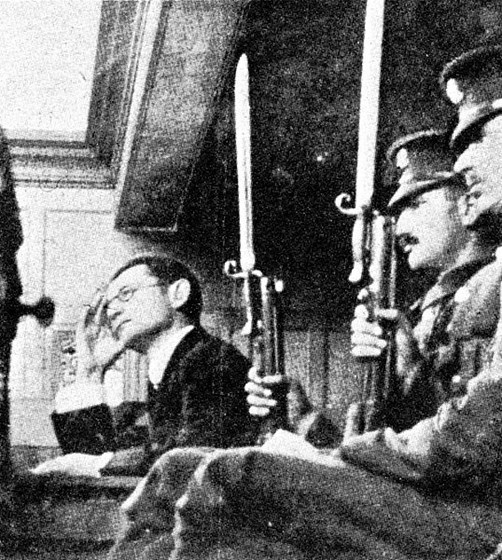 Above: Carl Hans Lody in the dock during his trial
Not surprisingly, Lody was found guilty and was sentenced to death (although he was not present in court when the sentence was announced). Some difficulty was experienced in selecting a place for his execution. He had been held in Wellington barracks under the guard of the 3rd Battalion Grenadier Guards. As only a short amount of time was available to select a place for his execution, the Tower of London was selected, even though it remained open to tourists (and would be open on the day of his execution). Lody's execution was to take place at the Tower's rifle range located in the eastern part of the Outer Ward between Martin and Constable Towers, behind the Outer Curtain wall and out of public sight.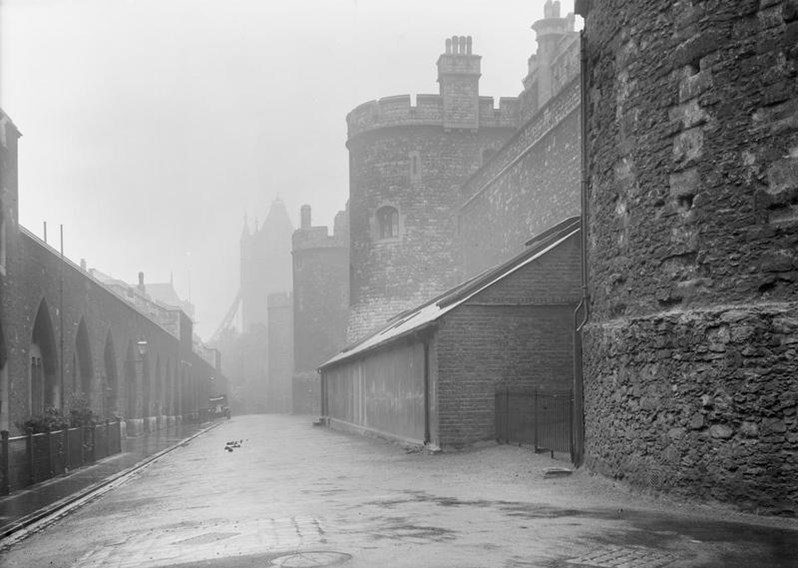 Lody was informed of his impending execution on the evening of 5 November and was brought to the Tower in a police van. According to the Daily Express, he "received the news calmly and with no sign of surprise."
Whilst at the tower, he wrote two final letters. One of these was addressed to the CO of the 3/Grenadier Guards:
Sir,
I feel it my duty as a German officer to express my sincere thanks and appreciation towards the staff of officers and men who were in charge of my person during my confinement.
Their kind and considered treatment has called my highest esteem and admiration as regards good fellowship even towards the enemy and if I may be permitted, I would thank you for making this known to them
Above: Lody's letter to the Grenadier Guards CO. 
The morning of 6 November 1914 dawned. It was cold and foggy. Lody was collected from his cell by the Assistant Provost-Marshal, Lord Athlumney. Lody asked, "I suppose that you will not care to shake hands with a German spy?", to which Lord Athlumney replied, "No. But I will shake hands with a brave man."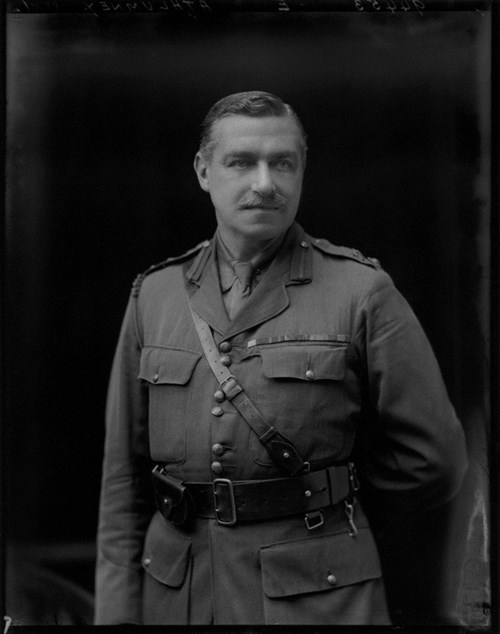 Above: James Herbert Gustavus Meredyth Somerville, 2nd Baron Athlumney, Assistant Provost Marshall of London
What happened next was later described by John Fraser, one of the Yeoman Warders:
Nobody liked this sort of thing. It was altogether too cold-blooded for an ordinary stomach (particularly that of a soldier, who hates cold-bloodedness) to face with equanimity, and it is not too much to say that, of that sad little procession, the calmest and most composed member was the condemned man himself.
For the Chaplain, in particular, it was a bad time. He had never had a similar experience, and his voice had a shake in it as he intoned the solemn words of the Burial Service over the living form of the man it most concerned . . .
The escort and the firing-party, too, were far from comfortable, and one could see that the slow march suitable to the occasion was getting badly on their nerves. They wanted to hurry over it, and get the beastly business finished.
But the prisoner walked steadily, stiffly upright, and yet as easily and unconcernedly as though he was going to a tea-party, instead of to his death. His eyes were upturned to the gloomy skies, and his nostrils eagerly drank in the precious air that was soon to be denied them. But his face was quite calm and composed – almost expressionless.
Lody was buried in an unmarked grave in the East London Cemetery in Plaistow, which also received the bodies of other spies to be executed later in the war. In 1924 the grave received a marker. The headstone was destroyed by a Luftwaffe bomb in the Second World War, and the present headstone was erected in 1974.
Above: Lody's Grave. 
Elsewhere in the Cemetery is a memorial to the other German spies who were executed in the First World War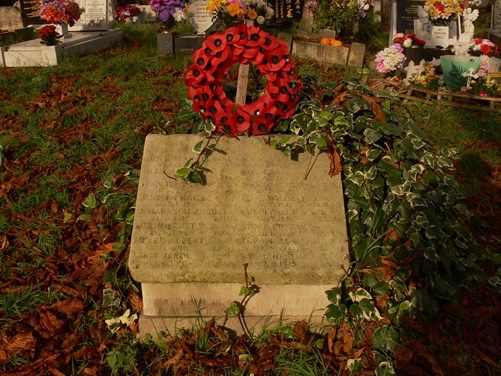 Above: The 'Spies Memorial'
Lody's was the first execution at the Tower of London since 1780 - 134 years previously. His was not, however, the last capital punishment to take place in this historic place during the Great War
List of German spies executed in the Tower of London during the First World War:
Carl Lody, 34. Executed 6 November 1914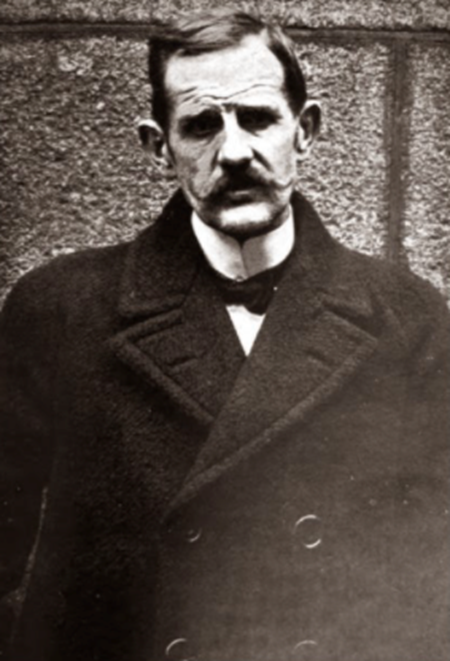 Carl Muller, 57. Executed 23 June 1915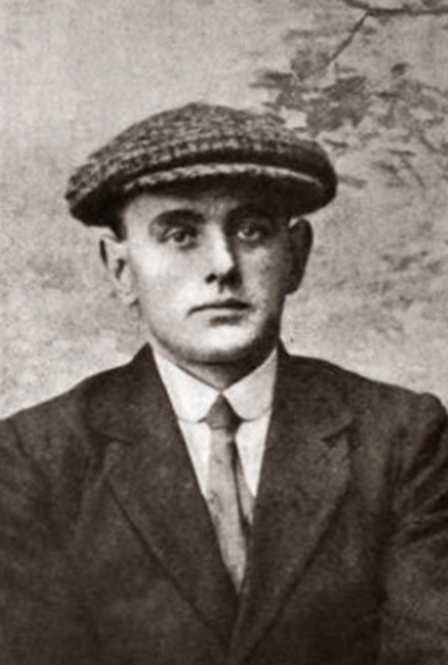 Willem Roos, 33. Executed 30 July 1915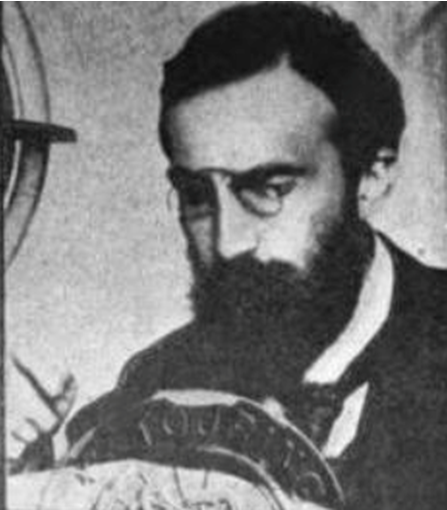 Haicke Janssen, 30. Executed 30 July 1915
Ernst Melin, 49. Executed 10 September 1915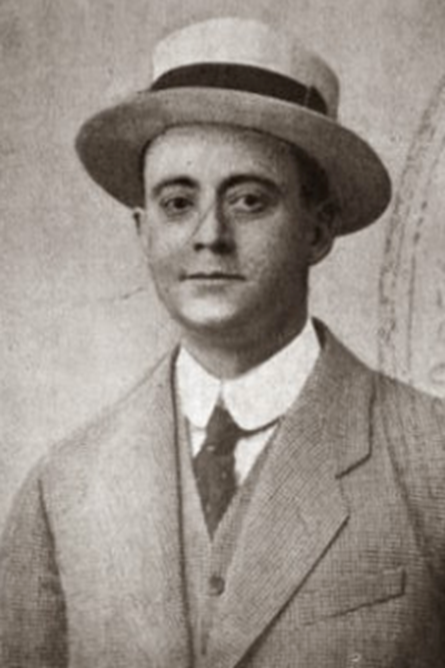 Augusto Roggin, 34. Executed 17 September 1915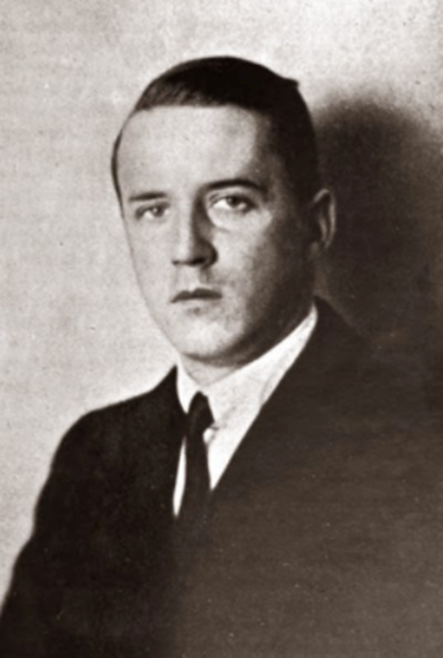 Fernando Buschman, 25. Executed 19 September 1915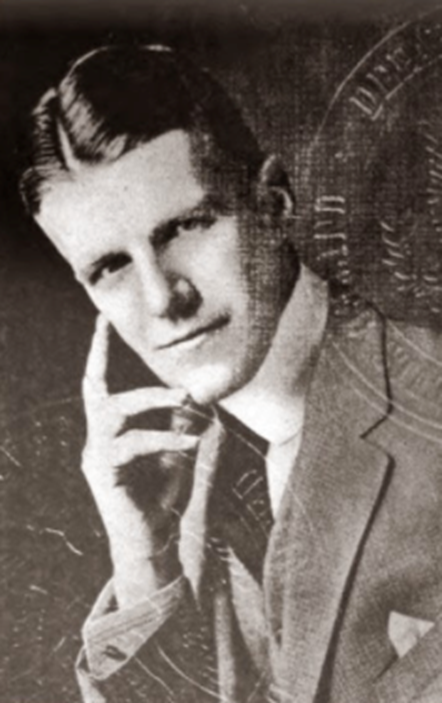 George Breeckow, 33. Executed 26 October 1915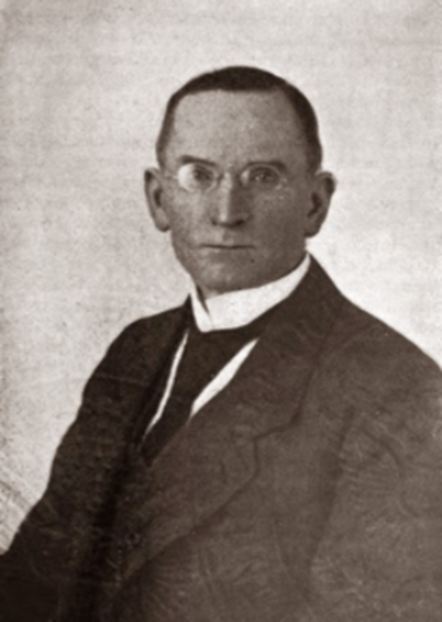 Irving Ries, 55. Executed 27 October 1915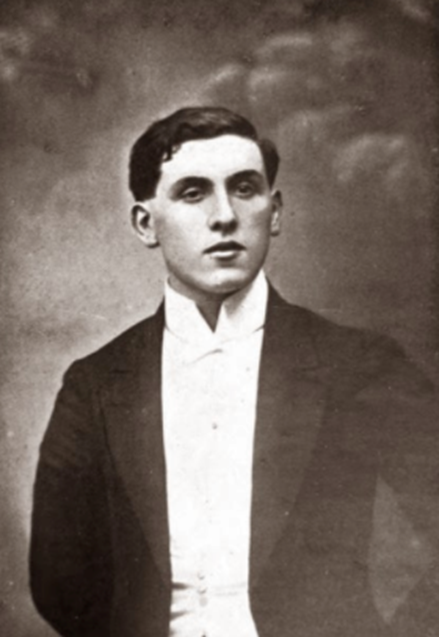 Albert Meyer, 22. Executed 2 December 1915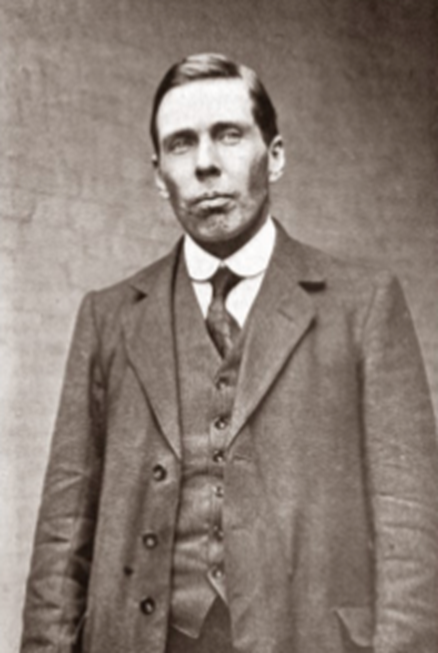 Ludovico Zender Hurwitz, 38, Executed 11 April 1916
Written by David Tattersfield, Development Trustee The Western Front Association.