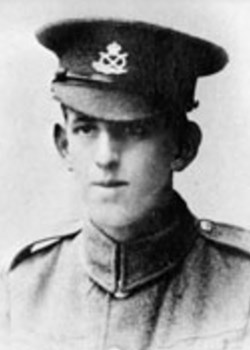 Born 31 March 1898, Ravensnthorpe, Yorkshire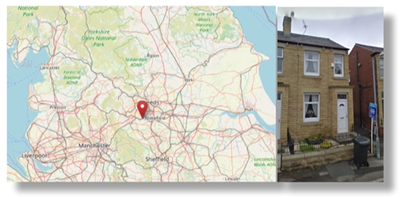 Living with his parents, Ephraim and Ellen Howroyd at 93 Clarkson Street, Ravensthorpe, Bertie attended the Wesleyan Church and Sunday School and worked as a percher for Pickering Greaves and Co (a perch is a frame on which cloth is placed for inspection; a percher is the person who inspects the cloth).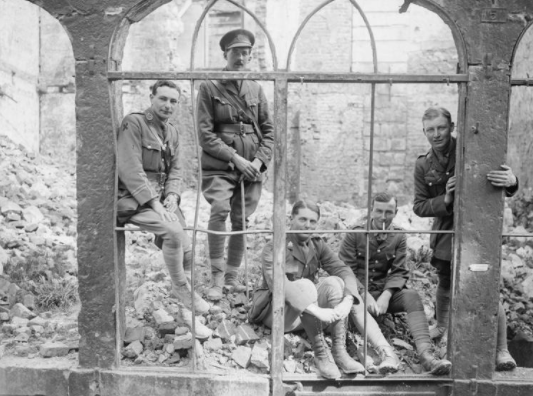 Bertie was called up in April or May 1917 and, after just three months training (part of which he spent in hospital), he was sent to France, joining the 10th Battalion, West Yorkshire Regiment (17th (Northern) Division), who were positioned north of Roeux, near Arras.
Battalion's War Diary reads:
5 September: Battalion proceeded to relieve the 6th Dorsets in front line. Relief complete about 12 midnight.
6 September: Quiet day with very little shelling. Some slight enemy trench mortar activity.....Every man available employed in improving the trenches. Active patrolling carried out at night.
Although no mention is made of any casualties, Soldiers Died in the Great War indicates that three men from the battalion were killed at this time, two on 6 September and one on 7 September. Bertie was one of those killed on 6 September; he was just 19 years old.
The news of his death came to his parents via Bertie's aunt: Bertie had on him at the time of his death a letter from her, and it was therefore to that relative that Colour Sergeant Major W Joyce wrote to say that Bertie had died. He said that he had been killed '... straight out and did not suffer one minute'.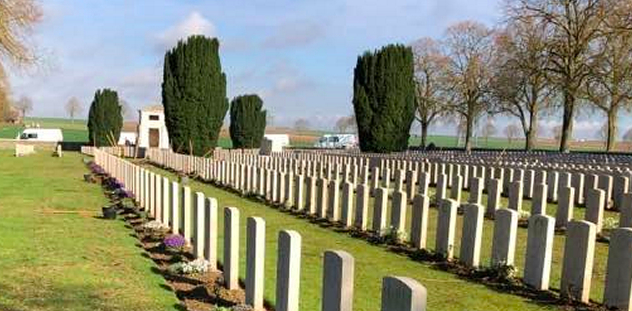 Bertie is buried alongside his two comrades from the 10th West Yorkshires in Brown's Copse Cemetery at Roeux.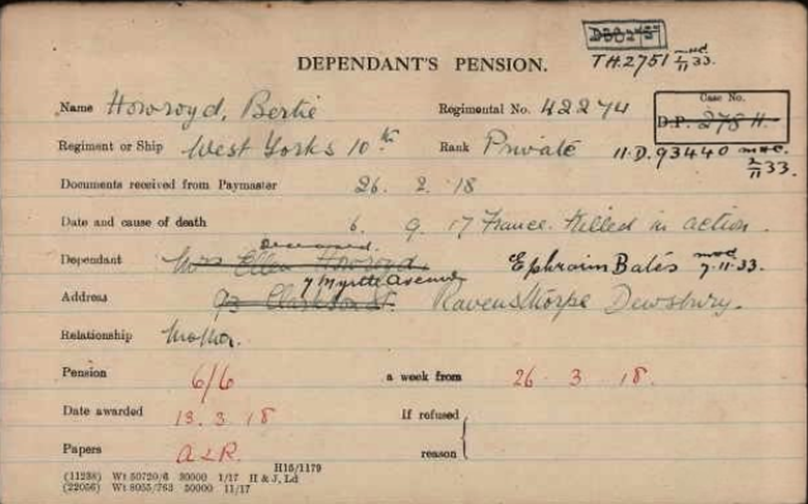 Pte Bertie Howroyd, 10th Battalion, West Yorkshire Regiment. 
6 September 1917
Research by David Tattersfield, WFA Development Trustee

Sources: Ancestry, England Census 1901, 1911; Pension Record Cards and Ledgers, The Western Front Association digital archive, Commonwealth War Graves Commission, Google Street Maps, OpenStreetMap.