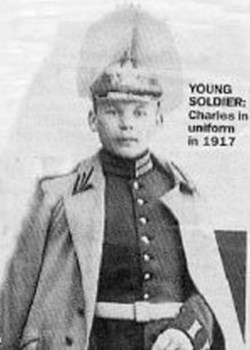 Germany's last surviving veteran of the Great War talks died on 7 April 2005.
Charles Kuentz was interviewed by Tony Paterson when he was 107 years old in 2004.
This photograph shows Charles Kuentz in 1916. It shows a youth of 19 wearing the Prussian spiked helmet, a heavy, grey field coat and sword that make up the full military dress uniform of the Kaiser's Imperial Army.
His other photos show frightened-looking young men in ragged battle dress staring at a landscape turned into a sea of mud by shell fire. "We thought it would be a war to end all wars and I fought it in the belief that it would never happen again, but sadly it always does," Mr Kuentz told The Telegraph, from his home in Colmar, in eastern France, yesterday. "I will die hoping that mankind will one day see sense and we will stop killing each other."
Ninety years after the beginning of the First World War, Mr Kuentz is almost completely deaf but his eyes smile warmly from behind his large black-rimmed spectacles and he offers a firm handshake.
Mr Kuentz was a reluctant "Fritz". His father was French but he started life as the German Karl Kuntz from Alsace-Lorraine, which was annexed by Germany during the Franco-Prussian War of 1870. When the Great War started in 1914, Mr Kuentz became one of the millions conscripted into the Kaiser's army. At 19, he was sent straight from boarding school to a training camp for the 5th German Field Artillery Regiment outside Berlin. "I was told that I had to help my German brothers and fight for the Fatherland," he said.
His first posting was to the Eastern Front, where he had to fight the Tsar's armies in winter, when temperatures were below minus 40C. "The cold was almost worse than the fighting," he recalled.
In 1917 he was transferred to the Western Front, where he was exposed to the full horrors of trench warfare at Arras, the Somme and Ypres. "They were terrible battles. It is almost impossible to imagine what we as soldiers had to endure, both physically and psychologically," he said.
Mr Kuentz's worst memory was seeing his best friend torn apart by shrapnel as they cowered in the trenches, pulverised by shell fire. "I could do nothing for him and, to this day, I have not been able to escape that terrible moment," he said.
By the summer of 1917, Mr Kuentz had had enough and desperately tried to find a way to avoid being sent back to the front. "I hadn't had a day's leave since I joined the war, so I told my commanding officer that, as an Alsatian conscript, I had been denied the basic right to leave granted to all German soldiers. I told him I wasn't going to go," he said.
His commander could have court-martialled Mr Kuentz but, instead, he sent him home for a few days. "When I returned to the front, nearly all my comrades were dead. If it hadn't been for my commander, I probably wouldn't be here," he said.
After the war, Mr Kuentz returned to Alsace and, changing his name to Charles, became a French citizen. He worked as a post inspector, married and had four children. However, in 1940, after the German invasion of France, he was once again a German. His son Francois was drafted into the Waffen-SS and died on the Normandy beaches in 1944.
Today, Mr Kuentz lives in the family home in Colmar with his two surviving children, Marie-Therese, 74, and Gerrard, 70. He refused to speak about his experiences until he was 100. "Then people started asking me about them, so I have tried to remember certain events," he said. With the help of his two children he has written his memoirs.
When, in September, he was invited by British war veterans to Ypres to meet Harry Patch, Mr Kuentz gave him a tin of Alsatian biscuits and Harry brought his erstwhile opponent a bottle of Somerset cider.
The two visited the German cemetery of Langemarck, where 44,000 of the Kaiser's troops are buried. Harry picked an acorn from the ground and gave it to Charles as a token of friendship. "We shot at each other from this place," recalled Mr Kuentz, yesterday, "but now we are friends. What a miracle. I never believed that I would experience this at the age of 107," he added.
Mr Kuentz said he treasured the acorn:
"It means an awful lot to me, these small gestures are the things that encourage friendship between peoples, so that we will never again fight wars against each other."
Obituary:
Charles Kuentz: aged 108, the last German survivor of the Great War, has died.
Charles Kuentz, who died in April, was born as Karl, a German and died as Charles, a Frenchman. He was a native of Alsace-Lorraine, the much-disputed 'lost provinces' between France and Germany, which were annexed by the Germans in the Franco-Prussian War, and returned to France after the Great War.
Mr Kuentz therefore fought for Germany in the First World War but was called up into the French Reserves in 1939 when war between the two nations threatened again. By 1940, Alsace was once again German territory, but Mr Kuentz (Karl again) was by then deemed too old for military service, though his son Francois was drafted into the Waffen SS and killed in Normandy.
At the end of the last war, Alsace was returned to France, and Mr Kuentz became Charles once more.
Mr Kuentz saw service at Ypres and Arras and also fought the Russians on the Eastern Front. Last year he finished his memoirs for military archives, which will surely make fascinating reading.
Charles Kuentz was the son of a railwayman and was conscripted into the Kaiser's army at 19. He fought at Ypres and on the Somme before transferring to the Eastern Front for the terrible winter of 1917, when temperatures sank to minus 40F. He wrote 'It was so terribly cold, We could see the Russians very close to us. Sometimes they shot at us, but most of the time it was calm as it was just too cold for war.'
After the War, Mr Kuentz returned home to Alsace and became a postal inspector. He married in 1921 and had four children, Marie-Odile, Francois, Marie-Therese and Gerard.
Mr Kuentz died at his farmhouse in Alsace. He did not talk about his war experiences until he was 100 - and then, as his daughter Marie-Therese says, 'it was as if you had turned on a tap'. He devoted the final years of his life to visiting schools and giving lectures promoting peace. Marie Therese said 'It was his wish to contribute something to stopping wars, to prevent young men being sent out to die. He saw the progress of the Iraq war with sorrow'.
Last year Charles Kuentz made a pilgrimage to Passchendaele, where he met Harry Patch. A newspaper report of their meeting follows on the next page.
'I will go to my maker still hoping that one day mankind will see sense and we will stop killing each other'. Charles Kuentz