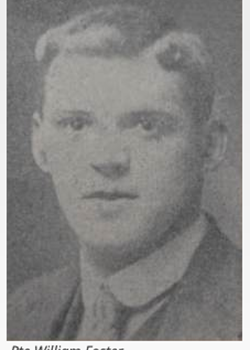 Born at Crumfin, Yorkshire in 1890, William was employed as a coal miner in Burnley, Lancashire at the time of the outbreak of war.
In February 1908, he had enlisted in his local Territorial artillery battery and had only just completed his service terms in 1914. When war broke out, William enlisted into the Manchester Regiment in Nelson, Lancashire and served with the 12th Battalion on the Western Front as from 16th July 1915.
Serving in the southern Ypres Salient for much of his early service, William took part in the fighting on The Bluff during the early spring of 1916 before moving to the Somme where, on the 1 July, his battalion was kept in reserve.
In action in the vicinity of the 'Quadrangle' near Mametz on 7 July 1916, William was killed in action and his remains never identified.
His name is commemorated on the Thiepval Memorial.
7 July 1916 killed in action
Research by David O'Mara
References:
Ancestry.com. British Army WWI Medal Rolls Index Cards, 1914-1920 [database on-line]. Provo, UT, USA:
Ancestry.com Operations Inc, 2008. Original data: Army Medal Office. WWI Medal Index Cards. In the care of The Western Front Association.
The National Archives of the UK; Kew, Surrey, England; WWI Service Medal and Award Rolls; Class: WO 329
The National Archives of the UK; Kew, Surrey, England; First World War and Army of Occupation War Diaries; Class: WO 95
The Burnley Express 9 th & 12 th August 1916
Commonwealth War Graves Commission (www.cwgc.org )
Soldiers Died in the Great War – HMSO 1921
Greater Burnley Roll of Honour Pub: Burnley 1920