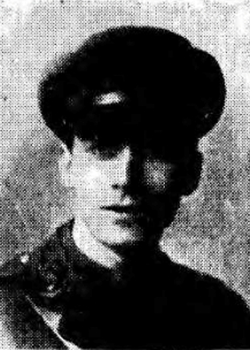 John Godfrey was born in Tottenham, London 26 November 1894. 
Fourth son of Joseth (a chartered secretary) and Louisa (née William) Godfrey from Finsbury Park.
1901 John was 6, and living at home with his parents, his 4 sisters and 3 brothers and a nursemaid.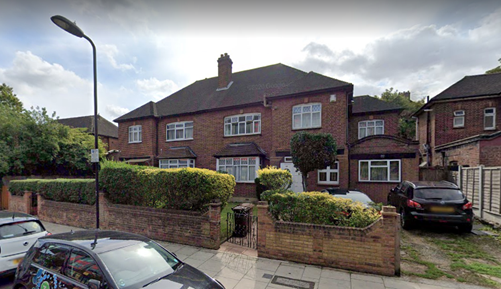 1911 now age 16, John was living at home still with his parents, four sisters and four brothers, a visitor and two servants in their 14 roomed house, 31 Woodbury Grove, Finsbury Park, London. Several of the children were working. Reginald was an Electrical Supply Rep, sister Mabel a teacher, Hilda a warehouse assistant, Bertram a shop assistant and Joseph an insurance clerk. John was still at school, as were his younger siblings.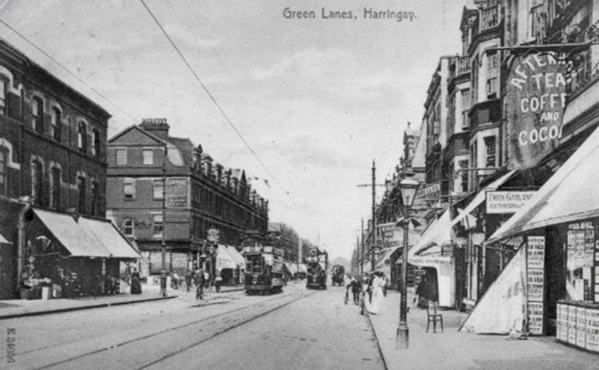 John was educated at St. John's College, Green Lanes, Finsbury Park.
A clerk before the war, 6 August 1914, he joined the East Anglian Brigade. He served in France and Flanders throughout 1915. From January 1916 he was in Egypt. That October he was invalided back to England. On recovering he underwent a course of training at St.John's Wood and was gazetted 2nd Lieutenant 17 July 1917. He returned to serve on the Ypres salient where he was wounded October 1917 and was  furloughed while he recovered. A few weeks later he returned. The following 7 May he was severely wounded and died later that day.
Lieut. Godfrey is buried in the Ebblingbem Military Cemetery. 
Three of John's four other brothers enlisted and were later commissioned:
Reginald Godfrey became a Lieutenant and then a Captain with the  Welch R. and served in Gallipoli and Mesopotamia. He survived the war. 
Bertram Godfrey enlisted on 8 August 1914 and received a commission in 1915. He served and survived. 
Ernest Godfrey served with RFA, was commissioned in the City of London Rifles, rose to Captain, received Military Cross and survived the war.
It would appear that Joseph Godfrey (b.1892 ) did not enlist, nor was he conscripted.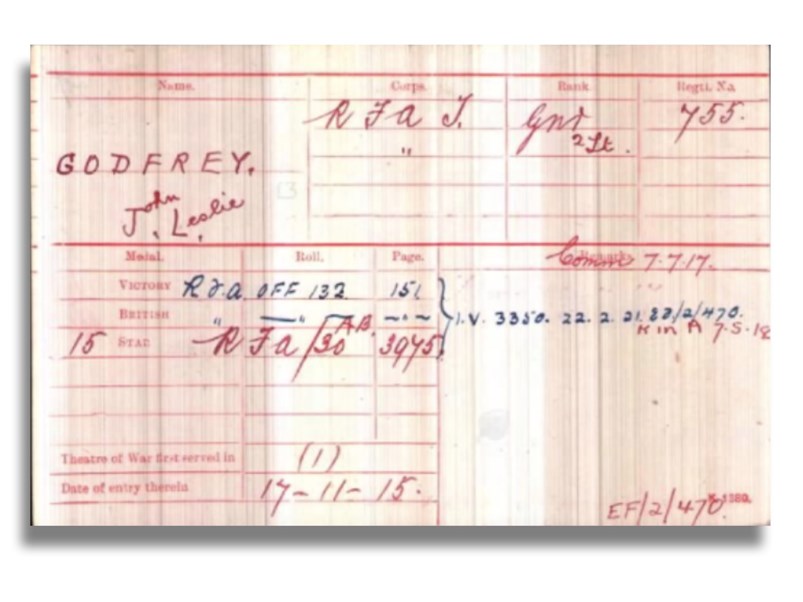 2nd Lieut. John Leslie Godfrey, Royal Field Artillery
7 May 1918 died of his wounds
Sources: Du Ruvigny's Vol. V, English Census Records 1901 and 1911, The Western Front Association Pension Cards archive on Fold3 by Ancestry.