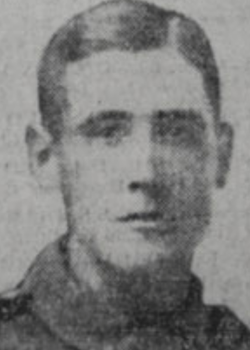 Born in 1896 in Newchurch-in-Pendle, Lancashire
Parents John (an antique dealer) and Hannah. He had a much older brother Hartley, as well a younger brother George and a younger sister Mary Lucy. 
Before the war Arthur was a cotton weaver.
Arthur was conscripted into the army in the spring of 1916 and allocated to the 2/7th Warwicks the following year after being sent to the Western Front in June 1917. After taking part in the 3rd Battle of Ypres and the Battle of Cambrai in 1917, Arthur was heavily involved in the defensive actions against the German Spring Offensives of 1918.
He was awarded the Military Medal for actions during the German Offensive after operating a machine-gun despite having suffered a gun-shot wound to the leg on 21 March 1918. Initially posted as missing (this was the last time any of his comrades saw him alive), it later transpired that he had been taken prisoner by the advancing Germans, but died of his wounds in a German medical facility on 8 April 1918.
Arthur is now buried in St.Souplet British Cemetery, Nord.
8 April 1918 325151  Pte Arthur Pickles MM, 2/7th Bn Ryl Warwickshire Regt
8 April 1918 died of his wounds
Research by David O'Mara
This is the Pension Card for Arthur Pickles
Members of The Western Front Association may access these digitised records for FREE. Access is via Ancestry and their fold3 platform. Follow these steps using your Member Login to access these records.