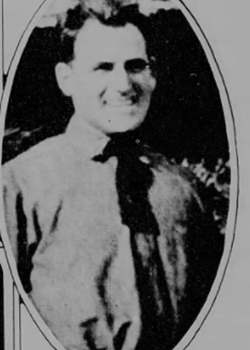 Edward Sargent was born 6 October 1890
Mother Florence Sargent.
According to his completed Jewish Servicemen Questionnaire Edward had been educated at public schools and high schools and was an 'efficiency engineer before the war'. He worked in the iron and steel business with F J Myers for 9 years before the war and lived at home - 75th W, 715th Street, NY 71st. He was also a pre-war member of the 71st New York Infantry and served with the regiment along the Mexican border. 
He enlisted in Co. B 6 of the 71st May 1917 and subsequently changed to 105 Infantry 27th Division.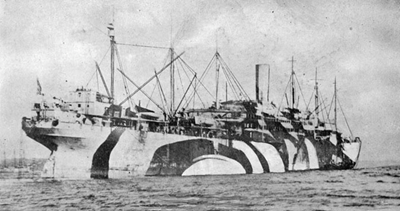 After training at Camp Wadsworth, South Carolina with his regiment (now designated 105th Infantry Regiment), Edward shipped out for France aboard the U.S.S. President Grant on 17 May 1918.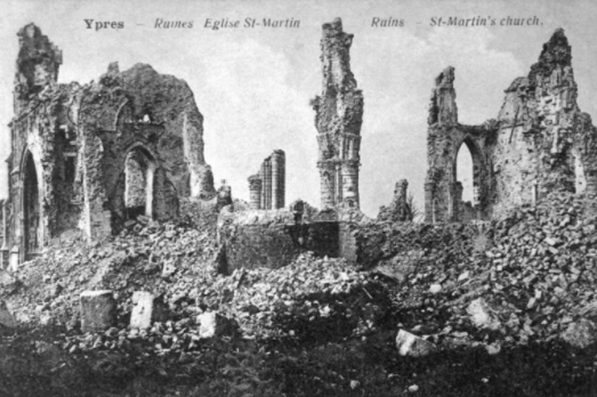 Upon arriving in France, the 105th Infantry, along with the other regiments of the 27th Division, he began intensive combat training under British supervision. On 30 June the 27th Division was ordered to move to the Ypres salient in Belgium.
5 July Dickebusch Lake and Scherpenberg Sector, Marne, France the 27th Division, which had been assigned to the British XIX Corps, began to began to relieve the French 71st Division.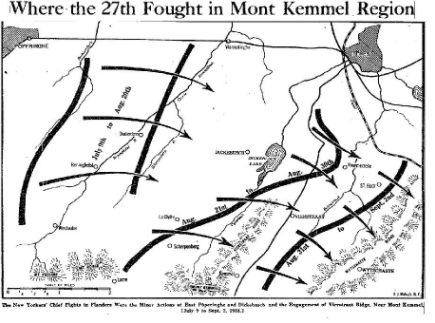 On 9 July the division organised to defend a portion of the East Poperinghe Line in the Dickebusch Lake area. (2)
Company L, 3rd Bn 105th Infantry entered front line service on 26 July 1918 along the East Poperingle Line in support of the British 16th Brigade.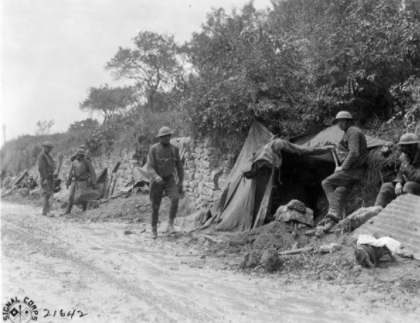 Between 27 July and 1 August the 27th Division diary reported that the 105th Infantry was under steady enemy artillery fire and harassing aircraft. (3)
During Company L's first turn in the trenches Captain Charles H Scott noted Edward's energy, efficiency, and bravery.
On the evening of 1 August Edward unflinchingly stood gas sentry outside the company headquarters dugout while exposed to terrific enemy artillery and machine-gun bombardment. (4)
During the evening of 2 August the 3rd Bn 105th Infantry made preparations for relief by the 9th Norfolk Regiment. On 3 August the battalion moved to rest billets at Trappist Farm. Captain Scott recorded that while at Trappist Farm he and his soldiers were still subject to occasional enemy bombing raids and long range artillery fire.
Captain Scott recounts that '(o)ne night ….word was brought that Private Sargent had been wounded; Lieutenants Carlin and Scott hurried over to the Aid Station nearby but he had been removed to a hospital before they arrived; later he died from his wound'. (5)
Private Edward B Sargent had been hit in the abdomen by a bullet and was evacuated to the British Hospital at Esquelbecq. He died of his wounds on August 8, 1918 and was initially buried in Esquelbecq Military Cemetery, France. Post-war Edward's remains were reinterred in the Somme American Cemetery: Plot A, Row 10, Grave 6. (6)
Most poignantly, Edward's mother made a pilgrimage to the Somme in 1929. 
The 27th would participate in two campaigns during the First World War: the Ypres-Lys and Somme Offensive and have seven of its soldiers awarded the Medal of Honor.
Pvt Edward B Sargent, Company L, 3rd Battalion 105th Infantry Regiment
8 August 1918 died of his wounds
Research by LTC (Ret.) Brian J. Murphy with additional research and images added by Jonathan Vernon. 
Facebook: The Long Trail: The Making of A Combat Division@27thDivisionUSA
(1) 'The Field of Honor: Americans Given Their Lives in The Great War', New York Tribune, 19 January 1919, [https://www.newspapers.com/image/79047507/?terms=Edward%2BSargent%2B105th%2BInfantry], (accessed 20 July 2015)
(2) 27th Division Summary of Operations In The World War (Washington, DC, American Battle Monuments Commission), 4.
(3) John F. O'Ryan, The Story of the 27th Division, Vol II. (New York, New York, Wynkoop Hallenbeck Crawford Co., 1921), 762 - 766.
(4) Charles H Scott 'The Story of Company L – 105th Infantry: Spartanburg to Handifort,' 71st New York in the World War, compiled by Robert Stewart Sutliffe (Privately published), 233.
(5) Ibid, 238.
(6) 'Edward Sargent', The American Battle Monuments Commission, [http://www.abmc.gov/node/347504#. V5zN-o76ucw] (accessed 20 July 2015)
Additional sources: World War I Mothers' Pilgrimage 1929; US, World War I; Jewish Servicemen Questionnaire; Department of the Navy; Borrowed Soldiers: The American 27th and 30th Divisions and the British Army on the Ypres Front; US National Guard 27th Division August 1918.