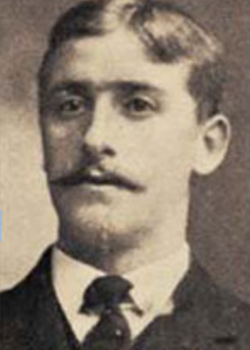 Born at Theddlethorpe, Lincolnshire in 1881
Arthur was working as a wool sorter in the USA at the time of the outbreak of war. Upon the declaration of war, he returned to the UK and worked as a munitions worker near Glusburn, Yorkshire before enlisting into the East Yorkshire Regiment at Cross Hills, Yorkshire in early 1916.
He was sent on active service to the Western Front in November 1916 and first saw action on the Ancre following the Battle of the Somme. Arthur was next in action during the Battle of Arras in April 1917 where he was severely wounded (gun shot wound to the left leg) during the Battle of Arleux towards the end of the month. He died of wounds in one of the General Hospitals at Camiers on 8 May 1917 and is buried in Etaples Military Cemetery, Pas-de-Calais.
27209 Pte Arthur Chatterton, 8th Bn East Yorkshire Regt
8 May 1917
Research by David O'Mara