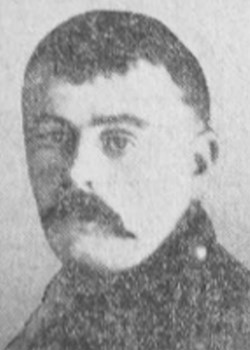 Martin Brennan was born in Burnley in 1879
Son of Martin and Elizabeth Brennan, he came from a large family. 
Age 17 months in 1881 the infant Martin lived with his Irish born father Martin, his mother Elizabeth 'May' and grandmother, two older children aunt and no fewer than five lodgers. All the adults worked in the woollen industry.
Age 11 in 1891 Martin lived with his parents at 21 Ashworth Street, Burnley and seven siblings and a lodger.
Martin originally enlisted into the East Lancs in February 1898.
At the time of is re-enlisted in August 1914 he lived at 105 Ardwick Street, Burnley with his own family of six.
Proceeding to France with his battalion on 22 August 1914, he was killed in action near the 'kink' at Le Gheer whilst repulsing a strong German attack. He has no known grave and is commemorated on the Ploegsteert Memorial, Belgium. He was 35 years of age.
At least three of his brothers served, Michael, James and Thomas. James served with the East Lancs in Mesopotamia, where he died in September 1916. 
5328 L/Sgt Martin Brennan, 1st Bn East Lancashire Regiment.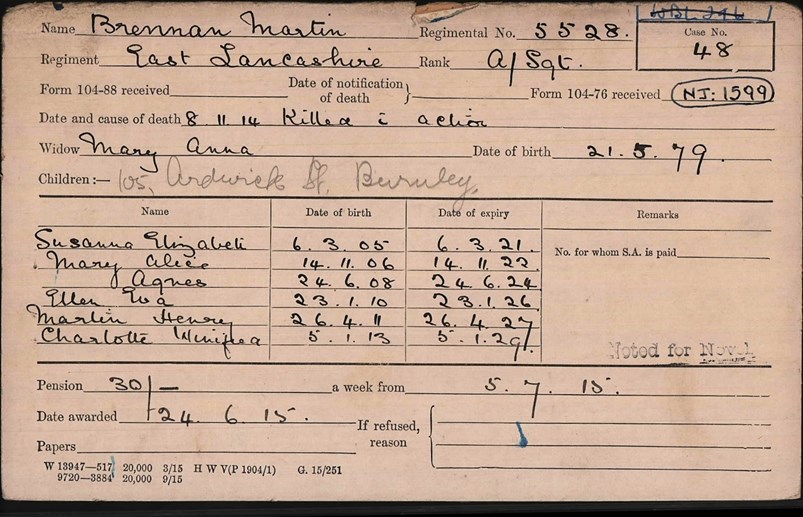 Above: the Pension Card for Martin Brennan. Note the discrepancy in the regimental number
8 November 1914
Research by David O'Mara
Sources: England & Wales, Civil Registration and Birth Index;  Army Register of Soldier's Effects; England Census 1881, 1891, 1901, 1911. Pension Ledgers and Cards from The Western Front Association digital archive on Fold3 by Ancestry.