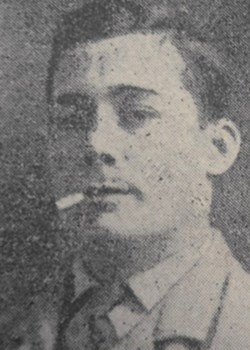 John Wood was born in Burnley, Lancashire in 1891
His father John Wood was a pit-worker and his mother Betsy a cotton weaver. 
In 1901, John, age 10, lived with his four siblings and parents at 6 Sydney St, Burnley. His father John, was then a a rag dealer working on his 'own account'. John's  12 year old brother George was already in the mill working as a cotton weaver.
In 1911, John, age 20, now one of six children at home at 24 Shaw St, Burnley with his parents. Like his father, 22 year old older brother George and younger sisters Mary (19) and Agnes (16) he was a cotton weaver.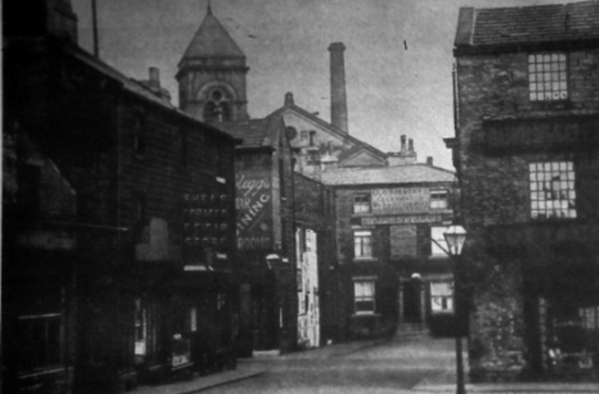 On 5 July 1913, three weeks short of his 23rd birthday John married 21 year old Jane Haworth, the daughter of a chimney-sweep at St.James Parish Church, Bathesda St, Burnley. Both John and Jane were working as cotton weavers and they lived at 18 Bush Street, Burnley. 
In December 1915 John enlisted into the Lancashire Fusiliers in Burnley and began his training. By this time his father was working in Barden Pit. 
He arrived at the front in time to take part in the later stages of the Battle of the Somme.
That September his son John was born (8 September 1916).
Wounded in action during the Battle of Arras the following year (April/May 1917), John was invalided home. He then returned to the front where he fought in the 3rd Battle of Ypres.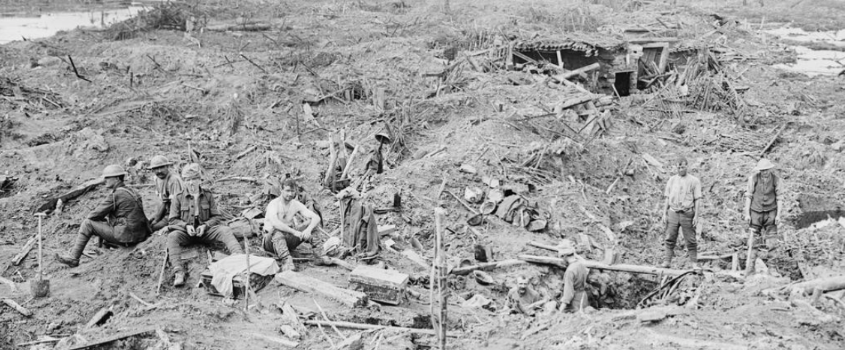 John was killed in action by shell fire during the relief of his battalion in the Poelcapelle-Staden Railway sector, Ypres Salient 9 November 1917.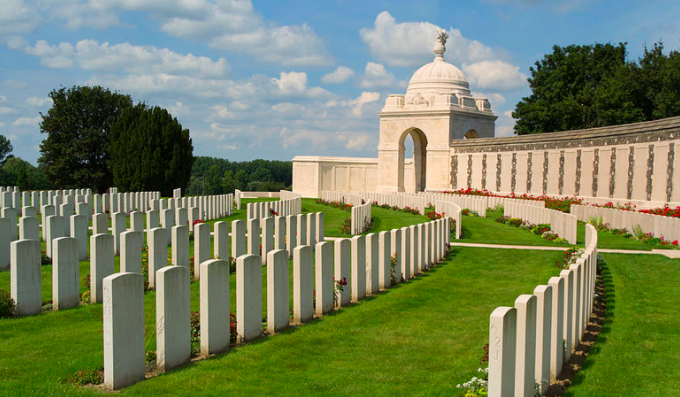 His body was never recovered and, so he is commemorated on the Tyne Cot Memorial to the Missing, Zonnebeke, Belgium.
At the time of his death John was married to Jane. They had a one year old son John born 8 September 1916. 
Older brother George, born 31 October 1890 enlisted September 1915, served as a saddler for six months and was discharged in March 1916 as he was 'completely blind in the left eye' and his character was 'bad' for service in the army, he is 'absolutely useless as an artillery man'.  From 12 to 25 October he was hospitalised with mild gonorrhea. He died in 1927.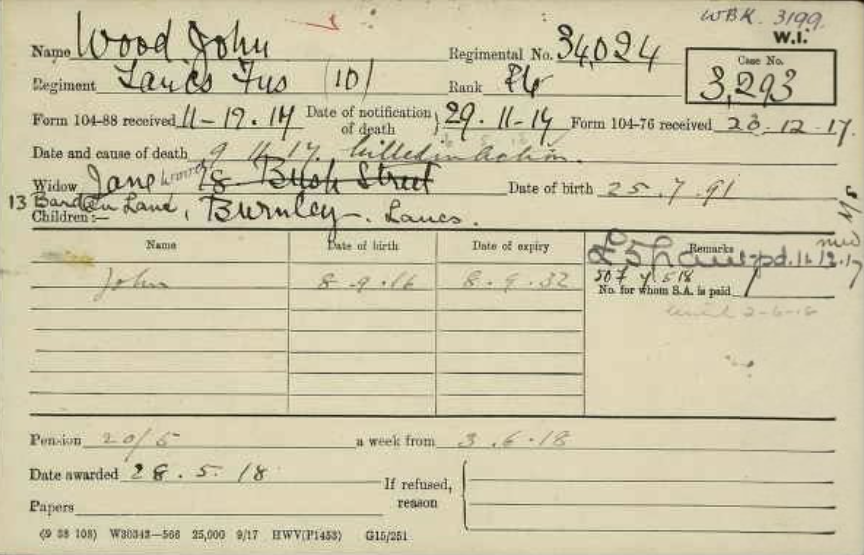 34024 Pte. John Wood, 10th Bn. Lancashire Fusiliers
Killed in action 9 November 1917
Research by David O'Mara with additional research by Jonathan Vernon.
Sources: UK Soldiers Died in the Great War, The Western Front Association Pension Ledgers and Cards on Fold3 by Ancestry. Lancashire, England Church of England banns and marriages. 1911 England Census for John Wood. UK Service British Army Records, Burnley Express 5th and 11 th December 1917.