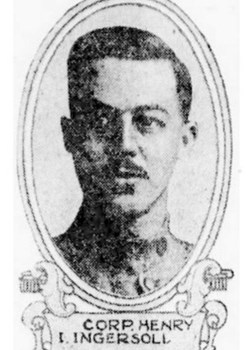 Henry Ingersoll was born on 15 August 1893 and was the son of Mr. and Mrs. Oliver W. Ingersoll of 876 Park Place, New York City.
Henry Ingersoll graduated from Erasmus Hall High School and attended Cornell University where he studied civil engineering. After graduating from Cornell in 1916 he employed with the family business. Henry enlisted with the 7th New York Infantry in August 1917. (1)
After training at Camp Wadsworth, South Carolina with his regiment (now designated 107th Infantry Regiment), Henry shipped out for France aboard the U.S.S. Susquehanna on 9 May 1918. (2) Upon arriving in France, the 107th Infantry, along with the other regiments and machine gun battalions of the 27th Division, began intensive combat training under British supervision. On 30 June the 27th Division was ordered to move to the Ypres salient in Belgium. On 9 July the division organized to defend a portion of the East Poperinghe Line in the Dickebusch Lake area. (3)
On 20 July Company K entered the reserve line trenches of the East Poperinghe in the near vicinity of a battery of the Royal Garrison Artillery. After its turn in the trenches, Company K resumed a regime of training near St Omer.
According to SGT Robert L Peek, the company historian, on 11 August Company K '…marched off to the line. We were situated for the first three days in reserve, occupying a system of trenches in front of Ouderdoom, under the direct observation from Mont Kemmel, then in Jerry's hands. There we fraternized with the "Tommies," with whom we were brigaded, and learned the art of trench cooking and the horrors of ration distribution….Some of our men went out on patrols, and crawled in apprehensive agony through the grass, only to be recalled by British officers, who came swinging their canes in best Piccadilly manner.'(4)
On 21 August Company K was relieved and returned to "Trappiste Farm". On 4 September the 107th Infantry Regiment entrained at Proven and arrived at Doullens the next day. From there the 107th marched to the town of Beauquesne where the 27th Division established its headquarters. It was in the vicinity that of Beauquesne that the 27th Division began special training, including training with tanks – a novelty to the American troops - in preparation for the assault on theHindenburg Line near Ronssoy. (5)
Shortly after Company K arrived in Beauquesne Corporal Henry Ingersoll became gravely ill and he was evacuated for medical treatment. Henry died from spinal meningitis at Casualty Clearing Station No. 1, BEF, on 15 September 1918. (6) Henry was initial buried in Wavens British Cemetery; however, post war his remains were reinterred in the Somme American Cemetery: Plot D, Row 2, Grave 15. (7)
1211695 Corporal Henry I Ingersoll, Company K, 3rd Battalion 107th Infantry Regiment : 15 September 1918 died from an illness
Research by LTC (Ret.) Brian J. Murphy
Facebook: The Long Trail: The Making of A Combat Division@27thDivisionUSA
"Two Ingersoll Boys in Service"

, The Brooklyn Daily Eagle, 9 June 1918, (accessed 26 August 2016)

John F. O'Ryan, The Story of the 27th Division, Vol I. (New York, New York, Wynkoop Hallenbeck Crawford Co., 1921), 146

27th Division Summary of Operations In The World War (Washington, DC, American Battle Monuments Commission), 4.

Gerald F Jacobson. "History of the 107th Infantry, U.S.A." (Seventh Regiment Armory, New York, N.Y., 1920), 388.

O'Ryan, 243.

"Died in the Service: Henry I Ingersoll '16"

, Cornell Alumni News, August 1919,  (accessed 27 August 2016)

"Henry J Ingersoll", American Battle Monuments Commission, http://www.abmc.gov/ node/349098#.V8ItT476ucw (accessed 26 September 2016)