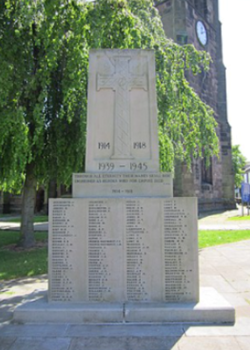 Born in Middlewich, Cheshire
Peter Mahon's family originated in Co. Roscommon in Ireland. His great-grandparents emigrated to Cheshire in the 1840's to escape the Potato Famine and by 1851 were living amongst a numerous Irish community in Lewin Street, Middlewich.
Mary Mahon, their granddaughter, gave birth to Peter on 14 February 1876 and he was baptised at the local Roman Catholic Church of St. Mary's on 3 March 1876. He was one of at least two illegitimate children born to Mary Mahon. The name of his father is unknown. His mother seems to have taken no responsibility for him and he was brought up by his grandmother, Margaret Mahon.
For most of his working life Peter Mahon was, in the words of the National Census, 'an ordinary farm labourer' living in:
1891 – at Brook House Farm, Whatcroft, Middlewich;
1901 – at 1 Billington Court, off Lewin Street, Middlewich;
1911 – at 7 Seabank, Middlewich;
1914 – on his enlistment into the Cheshire Regiment, Holmes Chapel Road, Middlewich.
On 7 December 1914 he enlisted in the Cheshire Regiment at Middlewich, having previously served, according to his Service Record, for two years and 311 days with 2nd Battalion. On 12 December he was sent to 3rd Battalion for training and on 6 March 1915 to 1st Battalion in Flanders. 
On 7 May 1915 Peter Mahon was killed at Hill 60, south of Ypres.
The record of Peter Mahon's life and death is sadly punctuated by mistakes:
The 1901 Census records him as being 28 years of age which would Have made him 41 when he reenlisted in the Cheshire Regiment – this is not consistent with the record of his birth and baptism. However, his Service Record indicates his age as 38 on re-enlistment.

The first report of his death in the local newspaper got his age wrong (35 instead of 39) as well as the date he was sent to the Front (February instead of March). It also reported the date of his death as 12 May 1915 (instead of 7 May). This newspaper also reported that an unnamed 'member of the same battalion' claimed that he was accidentally killed in a bayonet charge. There is no substantiation of this although Peter Mahon mentioned in a letter home just before he was killed that he had been wounded 'in a charge' but that he was otherwise 'in good health'.

Peter Mahon is listed as Peter Maho

re

in 'Soldiers Died In The Great War' (HMSO 1921) and in the Roll of Honour in the 'History of the Cheshire Regiment in the Great War' (Crookenden, pub. Evans, Chester 1939).

Peter Mahon's Medal Roll Index Card lists his name as Peter Ma

b

on. (His medals, 1915 Star, British War Medal and Victory Medal, were returned to the authorities.) 
He is remembered accurately on the local War Memorial and on the Cheshire Regiment panel (19) on the Menin Gate.
Sincere acknowledgement to Philip Andrews, who wrote about Peter Mahon in 'The Fragrant Blossom of Middlewich' (pub. Synchronized Communications, South Ruislip, HA40JS) - the record of the men of the town who died in the First World War.
17 May 1917
Private Peter Mahon, 1st Battalion, Cheshire Regiment