Search results for Peace Day.
/world-war-i-articles/19th-july-1919-peace-day-in-britain/
This article first appeared in Bulletin 114, the internal news and information magazine for members of The Western Front Association. [Available in print or digital formats]. Comprising a military procession that wound its way for seven miles through central London, crossing and re-crossing the Thames, where warships formed a Naval Pageant, alon…
---
/the-latest-wwi-podcast/ep-123-british-veterans-responses-to-peace-day-19-july-1919-mike-hally/
Mike Hally, PhD candidate at the University of Edinburgh, discusses his research into veterans' response to Peace Day that was held on 19 July 1919.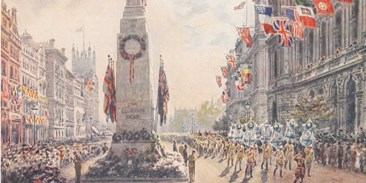 ---
---