Phil Sutcliffe talks about his father's account of being an infantryman during the Great War.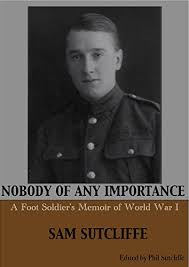 Phil's father, Sam Sutcliffe, was a World War One 'Tommy.'
He enlisted at the age of 16 in the 2/1st Royal Fusiliers in September 1914 and subsequently fought at Gallipoli the following year.
He then fought on the Somme in July 1916 before being sent home as he was discovered to be still too young for foreign service.
He returned to France in December 1917 and was captured during the German Spring Offensive on 28 March 1918, spending the rest of the conflict as a prisoner of war before repatriation in December 1918.
Phil tells his father's story using a 600-page memoir that his family finally persuaded hi to write in the 1970s