Prof Catriona Pennell, from the University of Exeter, talks about her book on the popular responses to the outbreak of the Great War in 1914 (published by OUP).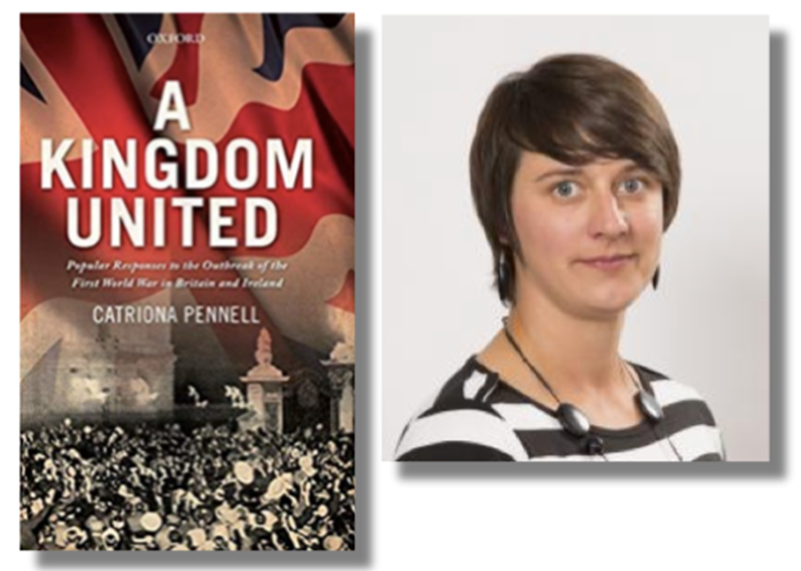 Her own interest in the period stems from being made to read 'Deaths Men' when she was taking her GCSEs. This set in motion thoughts on survival and man's inhumanity to man. Years later she is studying history under some icon educators: Alan Carnmer, John Horn and David Fitzpatrick. In 2020/3 she is studying for an MSC at LSE and she found herself wondering how ordinary people felt about war and it took her back to the period of 1914. Her reading took to the myth-busting works of Jean-Jacques Becker and Jeffrey Verhey on the complex emotions and motivations of the French and Germans as these countries went to war.
War enthusiasm was being debunked in the late 1980s; it was more nuanced.
Only an elite were privy to conversations about what was going on in Europe. The public were aware and anxious; other crises had come and gone, indeed that had been a period when Anglo-German relations had been improving. In England there was greater preoccupation with the issue of home rule in Ireland, suffragettes and labour unrest.
The response to the war was as complex as people. There was shock and despair,some were stunned, others took a stoical view. There was a hunger for news which is why people gathered in crowds at post offices, newspaper officers, even railway stations and town noticeboards hoping to hear the latest first.
Catriona Pennell's aim in her PhD thesis which was later published, was to study the fine chronology of August to December 1914, to unpack it hour by hour, day by day. At first their had been a hope for neutrality, there was an anti-war movement, but this evaporated once war was declared, what we found was people coming together - both the Labour movement and the suffragettes put their grievances to one side for a moment.
A new normality was quickly established, one with tensions, dislocation of employment and in a matter of weeks - the casualty lists. The daily landscape changed with the site of men in uniform, men training, practice trenches being dug, search lights coming into use and of course separation between husband and wife, families and their sons.
Further Reading 
The Spirit of Militarism. Myth and Mobilisation in Germany in 1914. Jeffrey Verhey
The Great War and the French People. Jean-Jacques Becker