Dr James Connolly is the Associate Professor SELCS Faculty of Arts & Humanities, University College, London.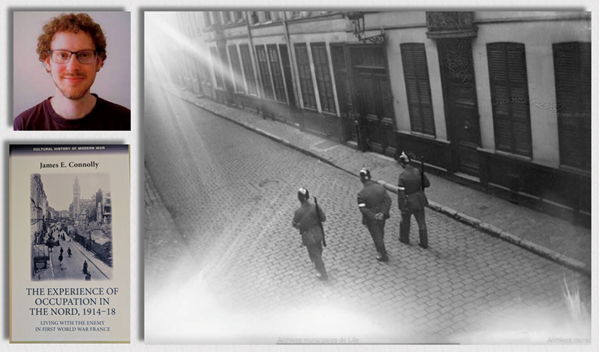 In this Mentioned in Dispatches podcast he talks about his research into the French experience of military occupation by German forces during the First World War. 
James completed his first degree and Masters at Royal Holloway and gained his doctorate in 2013 from King's College London.
His research focuses on military occupations in modern Europe, especially the experience and perspective of the French focussing on the German occupation of northern France in the First World War, considering French behaviours under occupation, especially relations with the Germans.  
His wider research interests include warfare (notably the social and cultural history of war), occupier-occupied relations, local and national identity, the First World War, and modern French and European history more generally. 
Dr James Connolly is particularly interested in notions such as resistance, complicity, and criminality, as well as the memory and perception of this experience.  The Experience of Occupation in the Nord, 1914-1918: Living with the Enemy in First World War France and can be downloaded for free via Open Access.  published by Manchester University Press in May 2018.  
His current research examines the French experience of the Allied occupation of the Rhineland in the inter-war period, aiming to consider the perspective of both occupier and occupied, relations between the two, German behaviours under occupation, and the role of violence.  
His research has been funded by the Arts and Humanities Research Council, King's College London, the Historial de la Grande Guerre, and the Institute of Historical Research.
Dr James Connolly previously taught at the University of Manchester, King's College London, and Royal Holloway, University of London.  Past modules include general survey courses on modern European history, plus modules on: the notion of a European 'civil war' from 1914-1947; the world wars; nationalism and nation-building; intellectual history; the notion of a French 'civil war' from 1934-1970; and twentieth-century French history.