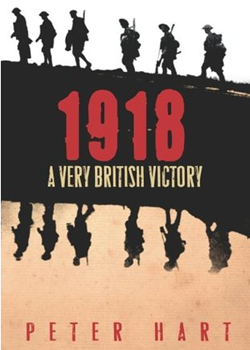 Weidenfeld & Nicholson, £20, 552pp 15 maps, 30 ills, notes, index. ISBN 978 0 297 84652 9 
As a recent thread on the invaluable Great War Forum has underlined, I am far from alone in my dislike of the plethora of books which drag the words 'forgotten', 'voices' and 'heroes' into their titles. 
Firstly, few voices are truly forgotten, they are neatly catalogued and archived for researchers' trawling. Secondly many such books seem to have little new to add; nor, frequently, do they put recollections in any worthwhile context. Although it would be highly offensive to dismiss all such works as the 'paste and scissors' authorship dismissed by many serious writers and journalists they remain, for this reviewer at least, deeply unsatisfying. 
Full marks then to Peter Hart for 1918.
He makes extensive, and for once highly valuable, use of recorded interviews, and written material, to tell soldiers' stories of the last year of the war with clarity and insight. Not least he frequently uses a number of accounts from the same actions, or from the same formation or arm of service, to illustrate, build and reinforce his account. His informed and informative linking sections add overviews which put the actions and events of 1918 in full, clear, and valuable perspective. 
Oral Historian at the Imperial War Museum, Peter Hart has interviewed countless veterans from conflicts ranging from the Great War to the current deep unpleasantness of Iraq and Afghanistan and also knows well the pitfalls of late recorded recollections. 
As he notes of all veterans' grim experiences; Plus ça change. 
He is equally well practised in his authorship: his technique is the same as that which he has applied in a number of works, not least the recent (and equally recommended) books on Great War aviation; Bloody April and Aces Falling. These too blend research, insight and personal accounts to provide highly readable accounts of key periods during the war in the air. 
Peter Hart is also well known to many WFA members from his erudite, highly discursive, and frequently amusingly irreverent talks at branches throughout the UK. Note to branch secretaries: If you haven't asked him to speak, then do so. 
The successes of the final offensive looms large in 1918, underlining not least the frequent war weariness and relatively fragile morale of some British and Empire formations – which nevertheless retained the will to win through – thrown into action again and again by now, successfully, 'thrusting' commanders able to combine all arms in coordinated assault. Nevertheless, it remains the author's account of the German Spring Offensives which, above all, springs off the pages. That these were, above all, 'soldiers' battles', when belief in command and control at senior level was frequently little more than mere chimera, becomes as apparent to the reader as it was to the officers and men in the field. Whilst the author does not discard recording British commanders' efforts to bring the matters under control, he does so with a light touch, at the same time revealing the full war losing consequences of Ludendorff's strategically inept, if tactically sound, offensives at the basic level. 1918 seems to me a particularly good book; it is both highly readable and perceptive, and a splendid introduction to more academic works on the last year of the war; the year in which the British contribution to final, if somewhat illusory, victory that puts the actions of the French and, particularly, the unready and frequently inept US military, into true perspective. 
Review by David Filsell
[This review first appeared in the April/May 2009 edition of Stand To! The Journal of The Western Front Association. Members receive three copies of Stand To and three of our sister publication Bulletin when they become members. They also get a Member Login to the entire Stand To! Archive, Gun Fire and Pension Records].