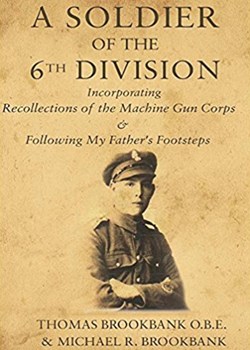 Reviewed by Michael Lucas.
A Soldier of the 6th Division includes an account, written from memory in 1976, by Thomas Brookbank, formerly a sergeant in the Machine Gun Corps, who served with 6th Division from Cambrai through, the Allied counterattacks, and to the Rhineland.
Brookbank was clearly a keen and effective soldier; he was a sergeant at 19. Apart from narrating his experiences, there are digressions on frontline life. While this memoir has interesting features, it is less than 60 pages. Nevertheless, it offers a detailed exploration by Thomas's son, Michael, of the experiences of his father and his unit, based largely on many unit war diaries. This is well done, with many photographs and maps, although some of the latter are hard to read which unbalances the book. It will, perhaps, appeal more to those interested in 6th Division than the M.G.C.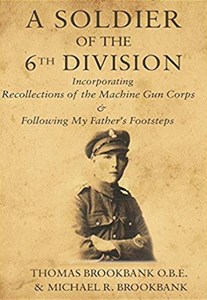 A Soldier of the 6th Division, incorporating Recollections of the Machine Gun Corps & Following My Father's Footsteps by Thomas Brookbank and Michael R Brookbank
£19.99, Matador, Publishing, hardback, 342pp, numerous maps and ills., many in colour, notes
ISBN-978-1-78462-400-2