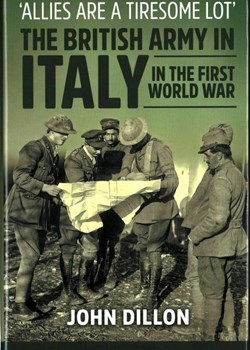 By John Dillon
Helion & Co Ltd, Solihull, £29.95, 221pp, 15 ills,4 maps bibliog, notes and refs, index
ISBN 978-1-910777-32-9.
Book Review by David Filsell
This, the 12th in the ever excellent Wolverhampton Military Series, published by Helion, is another good overview of Britain's relative poorly covered involvement the war on the Italian Front during the Great War. It is no simple battle narrative: the two successful actions in which the British Army was involved, one defensive and effective, the other offensive - which although highly effective gained little thanks or recognition from the Italian - are covered concisely - in two chapters.
After an introduction to Italians' politically motivated entry into the war against Austria-Hungary, and its stuttering performance at virtually every level of the army m until change of high command and the arrival of British and French support, John Dillon evaluates the internal aspects of British contingent in Italy led initially by Cavan, then Plumer, and finally, after its reduction in size, Cavan again.
The majority of the work reveals the vast differences which British troops - all Western Front experienced - enjoyed, faced, or were forced to overcome. As well sound analysis of the political, strategic and command decisions, it highlights the highly efficient work of a medical service on top of its game in this less, for the British, fatal war than France and Flanders. The author also evaluates the particular problems and difficulties which the army faced in Italy - supported by extensive statistical analysis - how they were confronted and overcome. Long periods of relative inaction, lack of home leave - a five day journey at least – all created concern about morale. Concerns were overcome only through constant vigilance by commanders - including a clearly more forgiving attitude to discipline than in France and Flanders – and by extensive organised activities, sport and by concert parties. Their value was shown in letters home, in which, inevitably, the soldiery groused to doctorate level. Always the letters seem to reflect the Tommy's attitude -"we're 'ere because we're 'ere" – the strange food, foreigners, places, conditions and wine (made worse by the lack of beer).
Although the transfer of the divisions to France was initially popular in the ranks, the differences in the IEF's war were many and various. Frequently, boredom became endemic for officers and other ranks alike. Nevertheless, casualties and deaths were proportionately fewer than in France and Flanders.  Beyond that muddy morass, in Italy explosives replaced spades and entrenching tools to create dug outs and casualties were frequently caused by high velocity stone shards rather than shrapnel and shell splinters. Whilst, not unusually in modern histories, maps are wanting, photographs are small, in-page. Yet, John Dillon's book another valuable, highly readable and sensibly priced addition to the Helion/Wolverhampton Military Series deserving of recommendation.