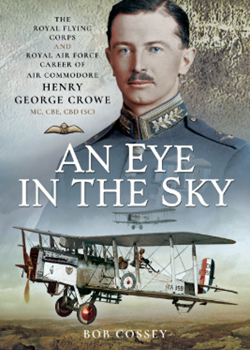 By Bob Cossey
Pen & Sword Aviation, £25.00, 392pp, 200 ills, appendix, index.
ISBN: 978–152–672–596–7
Henry George Crowe, 'Hal' to his family, was born in Dublin on 11 June 1897. The son of a successful stockbroker, he was studying engineering at Trinity College, Dublin when war was declared. Too young to enlist, he joined the army via Sandhurst in November 1915, passed out in July 1916 and was commissioned as a second lieutenant in the Royal Irish Regiment and posted to its 6th Battalion a year later.
He served in the trenches in France for over a year and his many letters home are evocative of the time spent under fire. By June 1917, he was the battalion intelligence officer and his training before the battle of Messines brought him into contact with the reconnaissance work of the RFC and rekindled his interest in flying.
In September he applied to be seconded to the RFC. After training as an observer, Hal Crowe was posted to 20 Squadron in France as an observer/gunner on 28 November 1917. The squadron was equipped with Bristol F.2B two–seat fighters and he scored his first aerial victory on 13 January 1918; the first of six.
Fully engaged in ground strafing during the German offensives in March/April 1918, 20 Squadron suffered relatively few non–fatal casualties, but Crowe had been shot down six times in eleven days of furious fighting and was sent home. For his work in 20 Squadron he was awarded an MC. After passing fit, Hal was recommended for pilot training but the Armistice intervened. His war was over.
Strictly speaking this point could signal the end of the biography's interest for readers of Stand To! but Hal's subsequent career in the RAF – the inter–war period, the Second World War and service in Ireland, Malta, the Middle East, India, Burma, Ceylon and China – is full of interest.
Hal Crowe's main interest after flying was photography and this biography is unique in the number of photographs – 200 in total, which range from Hal's boyhood through RAF aircraft of the Great War, between the wars, the Second World War and after plus many of historic and archaeological sites in the middle and far east. This is a fine biography of a very distinguished officer and is highly recommended.
Alex Revell