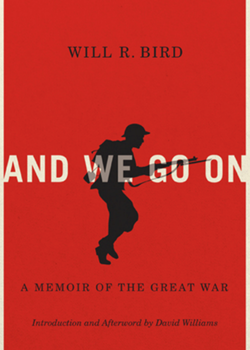 McGill–Queen's University Press, Montreal, 2014, soft covers, £16.99, 240pp ISBN: 9–780–773–543–966 
Originally published 1930.
The name of Will Bird will be familiar to some Stand To! readers from his book, Ghosts Have Warm Hands, which features reports of the author's personal encounters with spectral apparitions on the Western Front, 1917–1918. That book, published in 1968, was a much abridged and re–written version of a more conventional combat narrative published by Bird in 1930 to considerable success in his native Canada. It is that book, under its original title and with a scholarly introductory essay that is now under review.
So the first question readers who have had to survive 2014s centenary deluge of 're–discovered' Great War obscurities and 'undeservedly neglected' classics need to ask is whether this latest effort of retrieval is worth the effort, especially at the paperback price of £16.99?
Probably "yes", if you are interested in exploring the Canadians' fine record on the Western Front.
Yes, too, if you like your memoirs of France and Flanders to be granular in physical detail and mixed in with frequent moralistic speculations on the callousness of industrial warfare.
None of the classic episodes of the infantry memoir are omitted from And We Go On: the sniped soldier whose brains splatter the author's uniform; the comrade who dies in the author's arms; the German met on patrol whom the author mercifully allows to retreat.
But classic parts do not always make a classic whole. Introducing this well–produced new edition, its editor, Professor David Williams, draws comparisons between Will Bird's work and that of Eric Maria Remarque, Siegfried Sassoon and Ernst Jünger amongst others.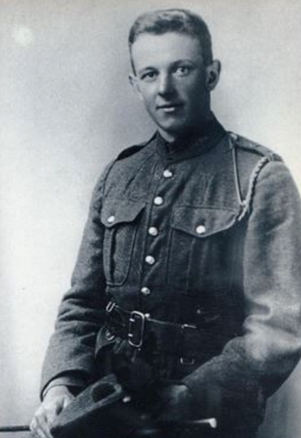 This photograph of Will R Bird is from the cover of his 1968 memoir, Ghosts Have Warm Hands.
Non–Canadian readers may well feel this is a stretch too far. Apart from the ghostly encounters, there is nothing of the Western Front infantry experience in this book that cannot be found more pithily expressed and without a tenth of the moralising in, to take just one example, Old Soldiers Never Die, Frank Richards' immortal memoir of the Royal Welch Fusiliers. 
Review by Chris Moore
[This review first appeared in Stand To! No.103 May 2015. Members receive three issues of Stand To! And three of our sister publication Bulletin each year. The entire archive of Stand To! Is available online to Members via their Member Login. Digital copies of both magazines are sent to our Digital Members.]
Further fascinating insight on the publication of 'And We Go On' is provided by James Calhoun.