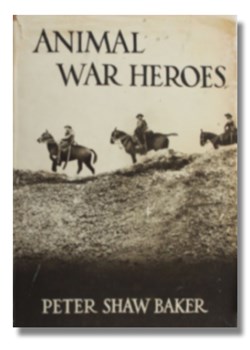 Though published nearly 90 years ago, Animal War Heroes is as much a delight to read today as I'm sure it was in the 1930s. The format is simple: a series of stories are told each time featuring a different animal. An 85 year old edition is a joy to thumb through - a 'proper' hardback, even if it has the smell of something that has sat on a shelf for a long, long time. In this instance the bookends are the dedication written on a slip of paper in 1933 and a cutting from the Telegraph of 20 November 2005 featuring the Animals in War memorial, Park Lane, London. I wonder if this edition was a gift in the 1930s and still treasured 75 years later. 
The premise for Animal War Heroes is simple: a collection of stories of animals who found themselves caught up in the conflagration of the First World War. Some of those featured were born in the trenches, others taken there from their homes, following their masters or commandeered - most of course working for their keep, some mascots and pets. For example Rags the war-puppy - born in the trenches, served his master well then taken home and through whatever stringent regulations of quarantine was found a home. There's the ships' dog that travelled from Scotland to Bermuda and is remembered by a memorial in a garden of Villa Gzira at Sliema, Malta. 
We learn that Germany had long realised the value of dogs in the time of war (unlike Britain) and had 6,000 trained and ready for action - as did Russia and France, Belgium too. In time, the training of messenger dogs by Britain was developed by Colonel Richardson. Dogs used in Belgium to draw small carts to carry vegetables to market, so readily enrolled in military service in machine-gun sections a pair of dogs pulled a light carriage. There are stories of French sentry dogs, as well as dogs who don't think twice about switching sides. We learn about Rocky - born 10 March 1918 in the firing line near Roclincourt - hence the name. As well as puppies, kittens were born in the line and adopted with differing levels of success. 
Pigeons were used extensively - and given that any one pigeon might be 'intercepted' (shot, died of exhaustion) the practice was to take several - there's a story here of how four pigeons kept for such eventualities on a seaplane saved the lives of the men on the pane when it ditched in the sea - the fourth bird made it to its loft with the necessary SOS message. 
We even learn how pigeons would be dropped from a flying plane - the bird, stone-like, would tumble earth, then straighten up, orientate itself and head for its loft. If releasing a pigeon from a flying plane appears odd, it sounds even more bizarre to release a pigeon for the same purpose as a snail-like tank. 
The story of Jane and Jimmy - the Goose and Gander sounds implausible - but that appears to be the British sentimentality - when two birds being fattened for the Christmas pot end up as the regimental mascots instead.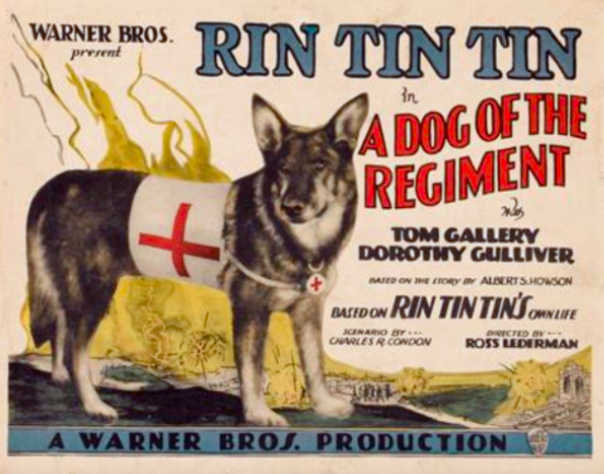 Then there's 'Rin-Tin-Tin' the brown Alsatian - from war veteran to movie star. Born in a German trench at Metz, 'Rin-Tin-Tin' was found in a dugout by an American officer, Lieut. Lee-Duncan, who kept and nursed him.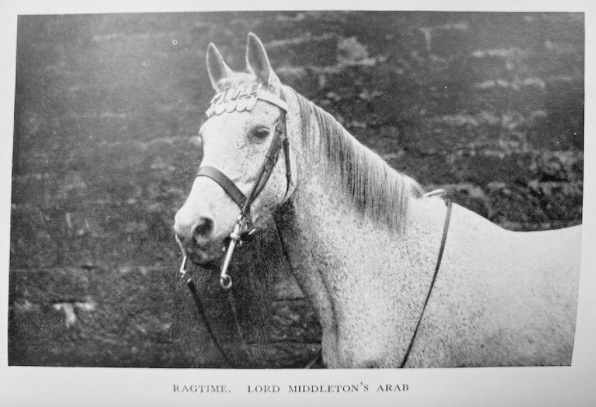 As we might expect, horses feature throughout - for example, there's the story of Warrior, and others … like Ragtime or 'Rags', Lord Middleton's Arab. 
Finally, we have a short round up of some of the war memorials, statues and parks, created to remember animals of the Great War, such as the War Horse memorial Les Revenants by Mr Herbert Haseltine and the Hartsdale Canine Cemetery, New York - a  special memorial dedicated to all War Dogs.