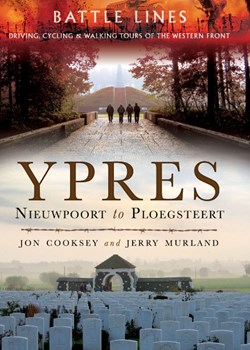 Authors: Jon Cooksey and Jerry Murland
ISBN 978 1 84884 783 4
Publisher: Pen and Sword 31 March 2013 240 pages including maps and illustrations
When I signed up to provide a book review for the Western Front Association I was curious as to what book I would receive, given the information I had provided on my area of interest. However, when I received Jon and Jerry's book I was mildly surprised and, to be honest, quite happy as I had already purchased the book and indeed had used it on a previous tour to the Ypres Salient in April of this year, conducting two walks from its pages (Kitchener's Wood – page 62 and Ieper Town and Ramparts – page 146).
However, I did wonder what this book could add to the many guides already published (although I had taken the plunge and purchased it). Again, I was surprised. The book itself is well laid out and traces the front line, as the title suggests, from Nieuwpoort to Ploegsteert, providing a brief historical overview and the usual guide to visiting the front in Belgium. The authors are both well established guides and authors and their knowledge is self-evident in the narratives of each tour they describe.
Each tour begins with a brief description and context of the area, explaining the whys and wherefores of the area. Coordinates, distance to be travelled and grade of the tour are all clearly laid down so one can easily understand what is ahead. My only complaint would be the maps. Whilst accurate and easily understood, they are a little basic and I would recommend using them alongside established maps (indicated at the beginning of each tour).
All the routes include photographs – both new and old – and a detailed description of the actions and areas of interest one will pass during a given tour. Visits to CWGC cemeteries are included, along with notable and interesting burials. The guide also includes details of numerous museums in the area, where to find VC winners and further reading recommendations.
Jon and Jerry's book is a well researched, easy to read and understand guide; it is a welcome addition to any Battlefield Tourist collection of the Ypres Salient. I for one will be using it again and again and I look forward to their next venture which, I believe, is focused on the Somme.
Highly recommended.
Reviewed by Ian T Hodkinson. IGBG Member 437