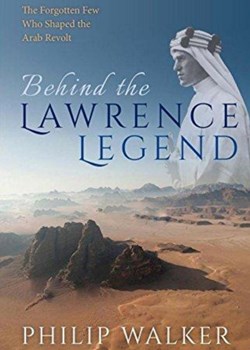 £25.00. Oxford University Press, 284pp, 35 ills. In page notes and refs. Bibliog., index, ISBN978-0-19-880227-3
Philip Walker
In the brief introductory chapter to Seven Pillars of Wisdom, TE Lawrence noted "In reality I never had any office amongst the Arabs; was never in charge of the British mission with them". Of the 46 fellow he names, 5 he noted were "over my head," modestly adding of them all, "It would be impertinent for me to praise them."
Walker reveals much the actions and efforts of no less that 20 of those listed by Lawrence - all distinctly un-legendary - officers who worked over and alongside Lawrence in the racially, tribally, militarily and politically charged environment of the war in the desert. Virtually all the 'little list' are all but forgotten, like their achievements. Outstanding amongst them was Colonel Cyril Wilson who, with his deputies was responsible for intelligence and diplomacy
If you accept that a legend is a story popularly regarded as historically based, yet never fully unauthenticated, Philip Walker walks the Lawrence tightrope well, placing him in a realistic perspective.
Views of Lawrence have changed greatly since his launch toward heroic status after a chance meeting with the American journalist Lowell Thomas. He 'dramatically' filmed TEL, gave highly popular lectures on him and through these, and his book, With Lawrence in Arabia (1924), constructed the TEL legend. Others, like the highly opinionated military historian Basil Liddell Hart and Robert Graves, author of his own, unreliable, Great War memoir, built - with TEL's active co-operation – Thomas's foundations
Some sixty years ago Richard Aldington's coruscating 'biographical investigation' of TEL fluttered the haughty feathers of what he dubbed the "Lawrence Bureau." Apart from Thomas, supporters included A E Lawrence - TE's brother, literary executor and reputational guardian, Liddle Hart, Graves and the artist Eric Kennington.
With others, this quartet sought - by fair means and, mostly, foul - to safeguard the TEL 'brand' from Aldington's research and authorship. Indeed, they were obliged so to do - their work had promulgated what many now judge to be TEL's inventions – by accident or design - about his life, military and post military career and exploits. Nevertheless, it remains an inconvenient fact for Lawrencians that many of Aldington's revelations have withstood critical scrutiny.*
Whilst marketing requirements may have dictated Behind the Lawrence Legend as the book's title, and his theatrical Arab-garbed image, on the cover, the primary subjects of Philip Walker's book are those under, and with whom, Lawrence served. These men, whose participation or direction in the desert conflict must now be judged as in some broadly more significant than Lawrence.
Walker's views Lawrence are compelling Lawrence, his opinion of the man he judges "damaged" fair. His exposition of the way in which the forgotten men of Arabia, soldiers and sailors guided, managed and directed is fascinating. So too are his views of the Arabs in revolt; their leaders frequently unreliable, often grasping and duplicitous. As too were the British and French politicians to TEL's lasting burden of regret. Highly recommended
(* See Richard Aldington and Lawrence of Arabia: A Cautionary Tale, Fred D Crawford, Southern Illinois Press 1998 ISBN 0-8093-2661-1)