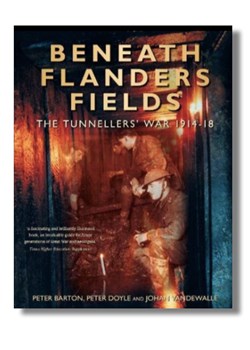 Beneath Flanders Fields: The Tunnellers' War 1914- 1918
Peter Barton, Peter Doyle and Johan Vandewalle
Spellmount.
304 pp.
£25.00. ISBN
86227 237 9
[This review first appeared in the September 2005 edition of Stand To! No.74]
Every so often a book arrives for review which really stands out. It may be the research, the illustrations, the quality of the writing or the standard of typography and publication which impress. Too frequently, even in such books, proof reading has been undertaken by one whose mental faculties are incomplete, the bibliography mean and the index incomplete. Only rarely are all the criteria of excellence met in a single volume Beneath Flanders Fields does, and I have no hesitation in describing Barton, Doyle and Vanderwalle's outstanding work as my 2004 Great War Book of the Year.
In describing and analysing the work of tunnellers, both British and German, in Flanders the authors offer a fresh outline of war around the Ypres Salient and a history of military sapping and mining before launching into a detailed explanation of work of the 'moles' and those who directed their works. It offers technical expertise alongside personal stories; geology is outlined in parallel techniques.
Whilst generously recognising and crediting the work of others who have written on the subject, the authors own primary and secondary research has been assiduous and deeply illuminating. No dry work of history this, rather a freshly minted evaluation of a fascinating aspect of the war leavened by a range of newly mined quotes from soldiers who were there, from letters and diaries, official documents and manuals. Illustrations, like the maps, in colour, are also new and revealing.
Beneath Flanders Fields is both a book for reading in its entirety and for dipping into at leisure. One particular quotation from a blind tunnelling veteran is so wonderfully explicit of his remembrances of war that it moves one almost to tears. So penetrating are the words that they deserve to be anthologised, recognised as one of the most moving statements ever written about the Great War (page 267).
It reads in part:
Smells are one of the big things. I can often still smell the gas today, and that musty dampness of mud and men at Ypres comes back when I'm doing the garden. That's all it takes: a sniff and you're back there again. HP Sauce does it; hot sweet tea outside on a cold day; misty autumn mornings. Walking past a butchers brings back 9 October 1917; the blood was in the air after the shrapnel exploded in the mist.
No celebrated piece by Graves, Blunden or Sassoon this, yet its author, Private Bert Fearns seems to surpass these greats' descriptive power.
In a recent review of the welcome reprint of Alexander Barrie's The World Underground I wrote that it was 'the fullest account on the subject available'. No longer, for although Beneath Flanders Fields covers only the Salient, this is a fuller, broader and wiser exposition 
If not definitive it is as close as makes little difference and, I dare add, unlikely to be bettered. Part of the book's success is a direct result of the individual areas of expertise, which the triumvirate of authors has brought to the work. Peter Barton is a writer and filmmaker, Peter Doyle a geologist and archaeologist, who together provide the secretariat of the All Party War Graves and Battlefields Group. Johan Vanderwalle, a carpenter and former civil engineer was born in Zandvoorde and is 'the foremost explorer of tunnels and dugouts in Flanders'
Their grip on the subject is obvious, their passion clear, their ability to explain and share knowledge with the reader a joy. I fear this review may seem brazenly 'over the top'. If so I offer no apology, for on reflection it is one of the best researched and presented books on the Great War that I have read for a very long time.
It is work not simply to be recommended but proclaimed loudly as a 'best buy'. So sling out Birdsong and use the shelf space for a genuine work of real and lasting merit.
David Filsell