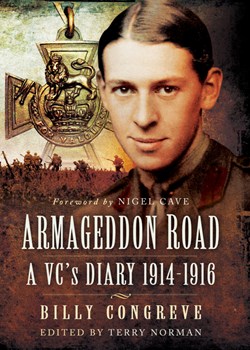 A VC's Record.
Major William La Touche Congreve, VC, DOS, MC, was killed by a sniper on 20 July 196. He left behind a detailed diary, some sketch maps and photographs, that in the hands of Terry Norman have been turned into a valuable record of the front line service of a galant and resourceful young officer.
Mr. Norman's commentary and notes provide a useful background setting, but with a little more thought on the part of his publishers they could have been made somewhat less obtrusive and, typographically speaking, more readily distinguishable from the diary itself.
[This review first appeared in Stand To! the journal of the Western Front Association Issue.no.7. There are many articles and book reviews in each edition. The archive is available online to WFA members].