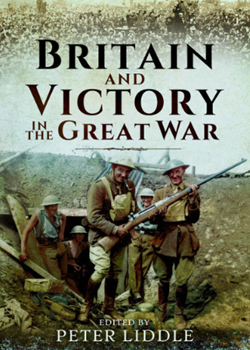 Edited Peter Liddle
Pen & Sword, £25.00, 374pp, 74 b/w ills, 12 maps, notes, refs, bibliog and index.
ISBN: 978–147–389–161–6
Peter Liddle, compiler and editor of this themed essay collection, uses a slightly provocative title to remind us that Britain fought in a coalition and was not always the senior partner.
Ed Spiers' introductory essay offers solid understanding of tactical developments from 1916 through to 1918 – a period in which Britain contributed more than its fair share. Niall Barr shows how competent the BEF had become by 1918 in exercising new tactics. Peter Burness reminds us that the Australian formations, reliant on volunteer recruitment, were perilously weak after the battles of 1916–17 – although the creation of an all–Australian corps provided a great boost to its morale and performance, especially under their own man Sir John Monash. Lucky to avoid all the most violent German assaults in March and April, they intervened at decisive moments to stem the enemy advance and played a major part on the road to victory.
Tim Cook shows that Canada had a great advantage. Its divisions always served as a 'national' corps. From mid–1917, it had a superb leader in Sir Arthur Currie who refused to let it be over–enlarged and its proven efficiency dulled. Again, with the British and French soaking up the worst of the German offensives, the Canadian Corps was available to spearhead many of the attacks that secured victory in 1918. Chris Pugsley offers a general history of the New Zealand contribution showing the strong single division in the field fought in close co–operation with British forces in 1918. Other essays cover the role of British industry, the Royal Navy, political leadership, women and propaganda in the war.
All that said, I would buy this book just to read Bill Philpott's essay: 'France Leads the Way to Victory'! In a sustained demolition of some of the more shameful assessments by British soldiers and authors he shows how the French Army of late 1917 and 1918 embraced modern methods and Marshal Foch's brilliantly co–ordinated final offensives left each of the Allied commanders thinking they were doing it 'their way', as opposed to his. As Philpott concludes, 'That is how to win a coalition war'.
Another fine essay by Russian expert, Chris Bellamy, reminds us of the long–suffering patience of Russian soldiers and the vital role they played year after year in holding down vast numbers of Central Powers troops. Despite crashing to defeat, then revolution, their contribution to victory should not be ignored. A sensible assessment by Ross Kennedy shows the huge material and financial support offered by the USA before it entered the war in April 1917. It underlines the important role of the US Navy in defeating the German submarine campaign in tightening the blockade on Germany and the six violent months of land fighting leading to the delivery of a fatal blow to the morale of the collapsing German armies.
This review cannot end without tribute to another important study by Jack Sheldon on the German Army. His picture of an army promised victory yet suffering the crushing disappointment of war without end is gripping. We are left in no doubt of the scale of Germany's defeat. I will end with apologies to the many other essays not covered in this short review of a very thought–provoking book.
John Lee