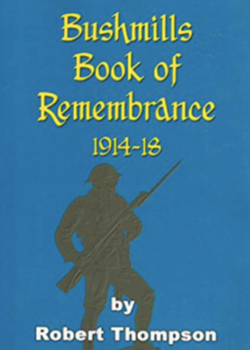 204pp, ills. £10.00 (2005 pricing)
(Copies available from the author) ISBN 0- 9537583-3-8 by Robert Thompson 
[This review first appeared in Stand To!  No. 73 April 2005]
Now in its second edition, Bushmills Heroes, offers valuable memorial essays to some 90 or so men from the area killed during the Great War. The diligence of its author, editor, publisher has unearthed scores of pictures, letters, telegrams and even poems to denote Bushmills valiant contribution to the nation's war effort.
The work represents a powerful piece of detective work and dedication. Above all the book underlines the contribution of Bushmills men on 1 July when 23 from the locality were killed or listed amongst the missing - of these the author notes only six have known graves.
This well presented paperback is a handsome tribute to their memory, and to that of all from Bushmills who died on active service.
Whilst I am unsure of the publishing sequence Robert Thompson has now completed three memorial volumes Bushmills Heroes, Ballymoney Heroes and Portrush Heroes. All are available from the author at 9 Riverside Road, Bushmills, County Antrim, Northern Ireland, BT57 8TP. 
Bushmills Heroes cost £10.00. Ballymoney Heroes is priced at £15.00 and Portrush Heroes at £8. (including postage and packing). However, the author is currently offering these two books to Stand To! readers at a reduced price of £18.00.
Review by David Filsell