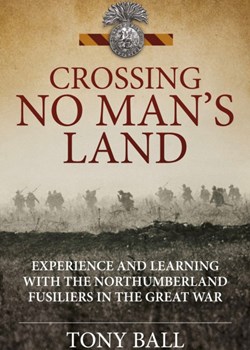 Reviewed by Bob Wyatt.
Crossing No Man's Land is the 17th in Helion's acclaimed series of Wolverhampton Military Studies. It publication was preceded by three articles by the author which appeared in the Journal of the Society for Army Historical Research. These preliminary writings covered the regiment's deployment on the Somme, the Territorial battalions and the regiment in 1918. There were two earlier pieces and one published in this Stand To!(1) on infantry tactics on 1st July 1916.
With some 20 published regimental histories on the Northumberland Fusiliers there is a wealth of available material – in the Great War there were 54 battalions, all the books being listed in the extensive bibliography.  The author's research method has been to explore the development of the principles and practice of infantry battle tactics through the analysis of more than 25,000 war diary days and to identify the 201 days on which attacks were taking place.
From this data are extracted detailed activity summaries what each of battalion activities; resting, training, in trenches, attacking, showing just how much time was spent and its cost in terms casualties. As we all now aware, attacking only took up a small proportion of a battalion's time in France, now have the detailed evidence underlines that opinion. Crossing No Man's Land offers valuable detail for the researcher and family historian, who can now construct a personalised activity and battle profile, for the biggest infantry regiment. As example, Balls' methodology shows that infantry line battalions spent 36.7% of their days in line holding (65.7% for pioneer battalions).
An overview of trench warfare is followed by analysis of experience and learning, its application to training and an analysis of the activity and its relationship to casualties. Of the estimated total casualties suffered by the regiment of at least 56,000, nearly 17,000 were fatal. We see from this study that the experience and training reduced fatalities during an attack from 65 in 1916 to 11 in 1918. That the army learned from experiences, is firmly underlined by the gigantic task undertaken by Tony Ball.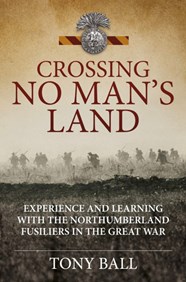 Crossing No Man's Land. Experience and Learning with The Northumberland Fusiliers in the Great War by Tony Hall
Helion, 2017, from £15 on Amazon, xv, 333pp, bibliog., index.
ISBN: 978-1-910777-73-2
(1) See Also > 'Over The Top: British Infantry Battle Tactics on the First Day of the Somme – 1 July 1916' by Tony Ball in Stand To! 103 May 2015.