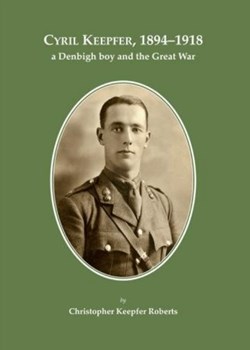 Cyril Keepfer, 1894-1918 a Denbigh Boy and the Great War
Bridge Books, Wrexham
48 pp, 20 pp photographs, 4 maps
notes and references
no index
ISBN 978-1-84494-111-7.
Christopher Keepfer Roberts
£15 incl. P&P UK, £20 incl. P&P non U
Proceeds less P&P to British Legion, from the author - email chris.k.roberts@btinternet.com)
2nd Lieutenant W.R.C. (Cyril) Keepfer has the melancholy distinction of being the last officer of 2nd Royal Welsh Fusiliers to be killed in action in the Great War- on 4 November 1918 (and by 'friendly fire'). His nephew has written this biography, progressing through his childhood in a Welsh German family; work as a London insurance clerk; and his army service. Cyril enlisted in September 1914, serving with 3rd Dragoon Guards in France from October 1915. Commissioned in the Royal Welsh Fusiliers in July 1917, he served with its 2nd Battalion from October 1917: one of the most written about units of the War.  However, Graves and Sassoon, but not Dr. Dunn, had left by this time. Unlike them, he was, by background, a typical Late War 'temporary gentleman'. He seems to have been liked and respected, and was killed leading a company in the battalion's last attack of the War. Unfortunately, he left no diary and few surviving letters, so the author often has to rely on such general sources as unit war diaries (of which he includes extensive extracts in his appendices). Thus, he frequently has to give an account of the unit's experiences, rather than Cyril's. But the author has made use of, and discusses, a very extensive range of sources for Cyril's life and  his well-written book may appeal not only to those with an interest in Wales, 3rd D.G. and 2nd R.W.F., but also to those wanting to produce something similar on their own relatives.
Book Review by Michael Lucas