Reviewed by Timothy Heck. 
Works on the American participation in World War I are understandably harder to come by than those of their European counterparts. Books focusing on the experiences of one American unit are harder still. George B. Clark, in Devil Dogs Chronicle, has edited the memoirs, letters, and diaries of members of the 4th Marine Brigade into a focused history taking readers from recruitment and induction, through training, into combat in France, occupation duty in Germany, and finally demobilization.
Clark's Devil Dogs Chronicle is a thematically and chronologically organized work drawing almost exclusively on primary source material written during or shortly after World War I. He draws on a significant number of unpublished or limited edition works to give voice to the Marines. Furthermore, Clark's selection of primary source material written during or shortly after the war vice memoirs written decades later or secondary sources reduces the influence of hindsight on his book. The result is the Marines' World War I experience being recounted almost as it happened.
The legend of the modern United States Marine Corps was, in many ways, born in the wheat fields surrounding Belleau Wood in northern France where the 4th Marine Brigade, part of U.S. Army's Second Division, fought the entrenched German Army. Clark's chapter on combat at Belleau Wood, where the Marines assisted in halting the German Spring Offensive of 1918, is his strongest. The Battle of Belleau Wood remains a cornerstone in Marine Corps lore and tradition. After reading the accounts of its participants, it is apparent why. The Marines describe hidden German machine gun nests and snipers in the dense woods. Commanders and enlisted men alike discuss capturing one German position only to be attacked from an unseen position on their flank. In one day, more Marines fell at Belleau Wood than had been killed in combat in the history of the Marine Corps to date. As such, the perspective Clark provides helps flesh out the Belleau Wood narrative for its place in Marine Corps lore and in its role in helping turn the tide in 1918.
Chapters on combat at St.-Mihiel, Soissons, Blanc Mont, and the Meuse-Argonne take Marines from the critical summer of 1918 through to the Armistice. These later battles proved Belleau Wood was far from an isolated example of Marine bravery and skill. In these battles, too, the Marines recall the savagery and chaos of combat in poignant terms. Short chapters on occupation duty in Germany and the return home complete the book.
Throughout, Clark allows his sources to express the chaos and savagery they experienced, as well as the lighter moments, in their own words. By weaving various authors throughout the text, he creates a holistic picture of the Marine experience in France from induction through demobilization. In Devil Dog Chronicles, Clark has given a consolidated voice to the men that gave rise the modern day Marine Corps. His book provides a view of Americans in combat in World War I that supplements official and higher-level histories with the contemporary impressions and reflections of its participants.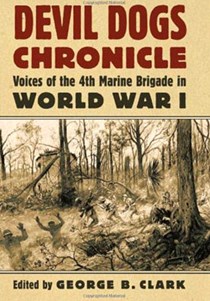 Devil Dogs Chronicle: Voices of the 4th Marine Brigade in World War I
George B. Clark (Ed.)
Lawrence, Kansas: University of Kansas Press
Reviewer biography:
Timothy Heck is currently a graduate student at Kings' College, London, in the Department of War Studies. An artillery officer by training, he is a graduate of several military command and staff schools. He lives and works in Southeast Asia.