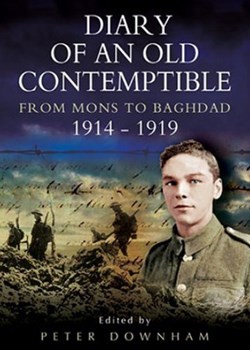 ISBN: 1 84415 135 2 HB 329 pages £25.00
Published by Pen & Sword Military Books 

Over the years numerous veterans have published their diaries, accounts and experiences of the Great War. Many of these volumes have been discovered, transcribed and edited after the death of the servicemen from whom they originated. Historians of varying literary skill and style have on the whole made commendable efforts filling in any details and gaps in the diaries story. So where does 'Diary of an Old Contemptible' come in this vast resource of Great War literature? One would have to say that this is one of the best additions seen in this genre for many years.

The diary was written by Edward Roe; an Irishman, a private soldier for his whole career, who during the Great War served with the East Lancashire Regiment.
The diary commences in March 1914 and concludes on 7th May 1919. Roe served on the Western Front from the start of the war, whilst there he records the events of the 1914 Christmas Truce. The Regiment was then moved to Gallipoli and served on the pennisular during the evacution. Whilst serving at Gallipoli Roe was unfortunately selected to be a member of a fire squad. From Gallipoli the Regiment moved to Mesopotamia. Roe gives extensive to the events of the Desert War. Following the Armistice Roe moves on to Indian before returning to Blighty in 1919.

Peter Downham's editing of this book can only be described as first class.
He has drawn together good quality maps and has made excellent use of various photographic archives to illustrate the diary. The book is very well referenced and shows just how much can be added to a war diary to enhance the understanding and enjoyment of the reader.

This book is a beautifully crafted work and should be part of any Great War Library. It is a book that helps the reader to understand just what the ordinary soldier thought about his lot in the Great War.
Reviewer: Martin Hornby