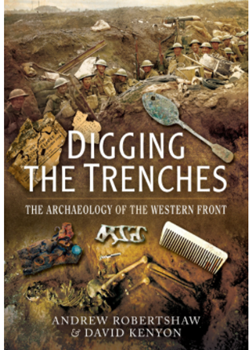 Andy Robertshaw, David Kenyon
Pen and Sword, £25.00, 207pp ills throughout, notes, index. ISBN 184415671-0.
Since I have frequently been guilty of criticising the quality of Pen and Sword books, I feel bound to note that, quite apart from its fascinating content, this is the company's best quality book for a long time. Clear typography is supported by well chosen illustrations, many in colour.
Digging the Trenches: The Archaeology of the Western Front is a genuine pleasure.
The authors have a sound pedigree. Robertshaw, formerly with the National Army Museum, now curator of the Museum of Army Logistics, has become a familiar face on television, with an ability to deploy a deft, yet informed, touch in his presentation.
Kenyon is a professional archaeologist, and another recognizable television face. Together with their 'Trench Team' they have employed a highly skilled approach to battlefield excavation, way beyond that achieved by those who scurry around at night, spade and metal detector in hand, to loot, and frequently simply sell, that which remains in France and Flanders.
The authors approach juxtaposes 'finds' and archaeological techniques – which have had to be specially adapted to suit the odd circumstances which have obtained during and since the war – with details of everyday life in the trenches. Above all, this places finds, events and locations in a context once considered impossible (even irrelevant by some archaeological purists to whom interest in such modern excavations once seemed to lack value and useful objective).
One obvious, although not necessarily the most fascinating, aspect of the work is underlined in four case studies based on bodies which had been found and identified. Almost single handedly Time Team made archaeology 'sexy'. Robertshaw and Kenyon approach things differently, but with equal fascination and skill, and, in an area once thought to offer little in the way of genuinely valuable return and new information about the Great War.
With one or two minor criticisms, including repetitions, which could have benefited from tighter editing, this is an otherwise well presented and written work, worthy of very considerable praise.
Full marks to Pen and Sword, Andy Robertshaw, David Kenyon and the Trench Team. 
Review by David Filsell