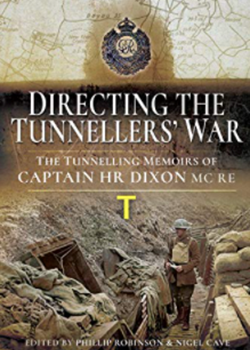 Pen & Sword, £19.99
HB, 207pp, Ills, maps & diagrams throughout,
references and further reading,
appendices and glossary.
ISBN 9781526714411
[This review first appears in the April 2021 edition of Stand To!. No.122] 
Herbert Dixon, a civil engineer, joined the Middlesex Regiment in 1914 as a private. His abilities were soon recognised. Commissioned into the Royal Engineers he became a trainer in bomb making and the throwing and use of explosives, before volunteering for a role in tunnelling and deployment to France in February 1916. After experience with 255 Tunnelling Company and 23rd Divisional tunnellers he joined the staff of Brigadier General Robert Harvey, Inspector of Mines at GHQ, based at Montreuil in late 1916.
Dixon's memoirs were written post war while he was working in China without either his notes or his wartime diary, which he had left in Britain. His account is deliberately sober. He wrote 'the carnage and horrors of war have been omitted for enough has been written about these aspects'. In writing Directing the Tunnellers' War, the author offers a fascinating account of his experiences when tunnelling as well as those, senior and junior, he worked with at GHQ. By 1916, approximately 30,000 men were engaged in tunnelling. Each company comprised some 550 officers and other ranks, almost none of whom were regular soldiers. The book's experienced editors, Phillip Robinson and Nigel Cave, put the role of the tunnellers in context, as they do the development of tunnelling operations and the dangers and difficulties of tunnelling. They also enhance Captain Dixon's original memoirs. Of particular interest is 'Operation Strandfest' in June 1917, a German spoiler attack near Nieuport, which Dixon describes was intended to disrupt Operation Hush, the British seaborne element of Third Ypres, which was cancelled.
The basics of mining on the Western Front were known to this reviewer not least through the work of 'tunneller and arsonist' John Norton–Griffiths and his 'clay kickers'. However, the engineers involved in tunnelling came from all over the Empire and beyond including a Portuguese Tunnelling company serving with the BEF in 1917.
The character studies of GHQ personnel are equally interesting, with humorous observations of George Fowke (Chief Engineer), Norton–Griffiths, Geddes, Edgeworth David, 'Tavis' Davidson, Edmonds and many more. Mining on the Western Front was much diminished after the Messines operation, which Dixon witnessed, and the tunneller's work was redirected to booby trap and mine clearance during the 1917 German retreat and the 100 days of 1918. (The vicious ingenuity of the traps described by Dixon ensures that this reviewer shall never look at a dead mule quite the same again!) Less well known, is the author's explanation of the 'Z Scheme', the demolition of communications behind the retiring BEF should Operation Georgette (in April 1918) have proved successful. He also covers in some detail the bridge building expertise developed by the tunnellers during the 'Advance to Victory'. Pen & Sword's presentation is attractive and other than the odd wrong date and typo there is nothing to criticise. An enjoyable read at good value, which I recommend.
Review by Dick Green