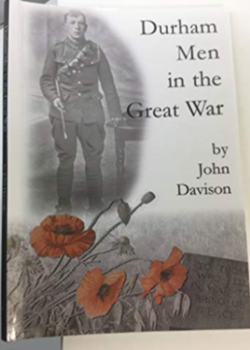 School of Education
Durham University
2001, card covers 129pp.
ISBN 1 870268 26 1. 
Obtainable from the
University School of Education, Leazes
Road, Durham DH1 1TA at £8.50 plus
70p postage.
The small mining village of Bowbum, near Durham, consisted of only five streets alongside the pit in 1914. There was no war memorial in Bowburn until the 1990s and many of the men from the village are commemorated on the memorial in the nearby village of Coxhoe. A brass plaque containing the names was erected in the community centre and another memorial is now in the new church at Bowburn. The lists of names, as is so often the case, did not match. 
The first part of this book concerns the way in which the conflict affected the area, using the two local newspapers; the second section traces the 47 men of Bowbum who fell. There are biographies of all of them giving unit, rank, home address, date of death, place of burial/memorial with information from the local newspapers where available. This well-produced book concludes with a chapter on how to research Great War casualties.
Appendices give the casualties in chronological order, by unit, by cemetery and memorial, by age and rank and by street names. An excellent record which needs to be added to any collection of memorial volumes and will be of use to those interested in the Durham Light Infantry or the Northumberland Fusiliers, each of which had eleven casualties from the area.
Review by Bob Wyatt