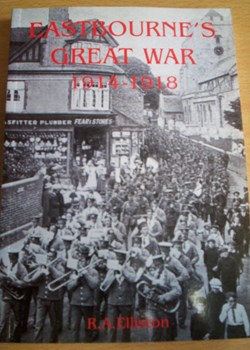 Book Review by Geoff Bridger.
Following the success of his previous book, Lewes at War 1939-1945, Bob Elliston - a well-respected local author and historian - has produced a history of Eastbourne's part in the Great War. It is not a memorial book commemorating the town's war dead for, with over one thousand fatalities, that would have been a mammoth task. Instead it is a delightful history of the borough and its surrounding areas during those fateful years.
A handful of prominent war dead has however been singled out for special mention. The roles of the various elements that make up a town at war are traced, and the proliferation of army camps in the area and the rapid expansion of the medical services are covered in depth. This book has been well researched and written by a local man with an intimate knowledge of his subject. In spite of some inconsistencies in presentation, it is excellent value at £10.
[This review first appeared in the journal of The Western Front Association Stand To! Issue 58 Arpil 2000. This and other copies of Stand To! are available to read online to members by signing in using their Member Login]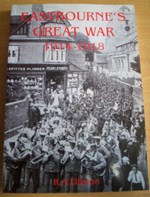 Eastbourne's Great War 1914-1918
R A Elliston
SB Publications, 19 Grove Road,
Seaford, BN25 1TP, 1999.
184pp, £10.00
ISBN 1 85770 146 1