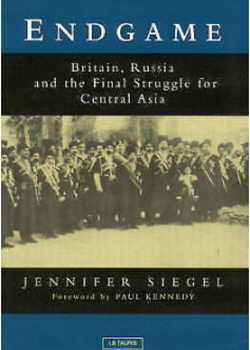 I B Taurus & Co Ltd, London & New York, 2002, 273pp, bibliography, index, ISBN 1 85043 371 2. 
India's dominant influence on British military thought until the early years of the twentieth century is often overlooked. Although probably a little 'left field' for most interested in the Great War, Jennifer Siegel's Endgame provides a deeply researched examination of the tale end of 'The Great Game' - the political conflict between Russia and Great Britain to control central Asia. 
In its scholarly analysis of tensions after the Anglo Russian Convention of 1907, which had been signed to end tension between the two imperial powers, Siegel underlines that military conflict was only avoided by the outbreak of the Great War. Although no less than 66 pages of detailed notes and references underline Siegel's scholarly approach, hers is no mere academic work. Siegel has plumbed newly available Russian sources to provide a dense and detailed evaluation of the political actions to provide a view of events 'completely different from what has been supposed for the last century'.
[This review was first published in the September 2004 edition of Stand To! The journal of The Western Front Association].