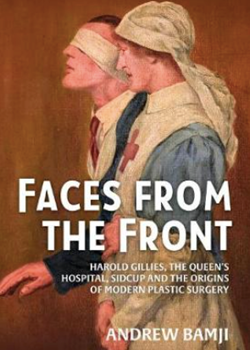 Helion, £29.95, hb, 
212 pp, ills. throughout – some in colour.
ISBN: 978–191–151–266–0
This review first appeared in the journal of The Western Front  Association Stand To! No.112 June 2018  
This is an excellent book. Andrew Bamji is a specialist in the field of rheumatology and rehabilitation, consultant archivist (for nearly 40 years) at Queen Mary's Hospital, Sidcup. He was instrumental in creating the archive he has so expertly mined for his book on the development of facial reconstruction during the Great War and the rehabilitation of patients following their treatment. It is also an examination of the human spirit.
As the author records, the Great War was '... the first in which casualties from trauma were more numerous than those from disease.'
Plastic surgery was not new in 1914: Hindu scriptures describe nasal reconstruction over 2,000 years ago and Renaissance surgeons wrote about skin grafting. What was new was better understanding of the need for sterile conditions and the ability to anaesthetise patients without a mask which, in facial reconstruction, would cover the very area to be worked on.
Bullets, shrapnel and shell fragments produced appalling wounds 
Advances in medical knowledge could ensure the survival of the men wounded by these projectiles the result was often a loss of eyes, ears, jaws and sometimes entire faces. Facial reconstruction drove the work of Harold Gillies. The 32 year–old New Zealander, was both an expert sportsman and a specialist in ear, nose and throat surgery. In 1915 he went to France to assist a pioneering French dentist, Charles Auguste Valadier, then practising at Wimereux, who was unable to operate unless supervised by a surgeon. This work drove Gillies to approach the head of army surgery in the UK to create a facility in Britain which led to the first unit at the Cambridge Hospital, Aldershot.
As well as creating a surgical team, Gillies also saw his work as a training aid for others. To this end Henry Tonks, a surgeon, who had also taught art at the Slade, produced meticulous and detailed pastels to record the treatments, many of which are reproduced here in colour.
Overwhelmed by the Somme where flying flint shards exacerbated the injuries sustained, the hospital moved to Frognal House, Sidcup; it was funded through voluntary donations.  gave not only money, but also her name – a valuable fund–raising assets. Gillies and his team also used the media to find employers for those discharged following treatment and provided instruction in agriculture, carpentry and other trades.
The stories of those men drive this book: their wounds, their treatment and rehabilitation; the frequently ground–breaking procedures they underwent and the appalling suffering they endured. Yet, above all it was the indomitable human spirit which saw them through.
This book is not an easy read.
Many of the illustrations are challenging, even 100 years on. The outlines of the surgical procedures, some by necessity almost experimental, can be difficult. Although he does not shy away from the subject matter, the author makes the book readable. 
At no time did this reviewer feel lost in medical terminology.
'Historians ... speak of heroic sacrifice ... few of them give thought to those whose lives were not ended by the conflict, but were changed forever.'
This book talks of those who were left to grow old, and whom age did weary, and it is dedicated to their memory', claims the author.
This fascinating and important book deserves a wide audience.
Review by Steven Bloomfield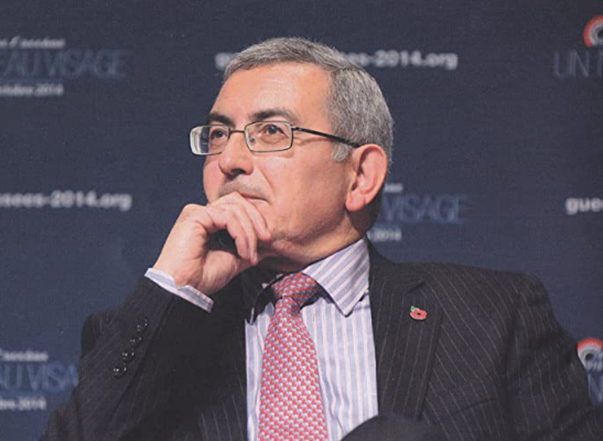 Dr Andrew Bamji is an expert on medicine and surgery of the First World War, having developed an interest as the hospital's archivist, when he discovered and recovered the wartime case files of 2,500 facial injury patients treated at Sidcup.
He was a Consultant Rheumatologist at Queen Mary's Hospital, Sidcup, Kent and Director of the Elmstead Rehabilitation Unit there. From 2006-8 he was President of the British Society for Rheumatology, having undertaken various committee roles for the Society, and during that period was also a member of Council of the Royal College of Physicians.
Faces from the Front won first prize in the "Basis of Medicine" category of the BMA Book Awards 2018.
Dr Bamji writes an occasional blog The Wry Observer