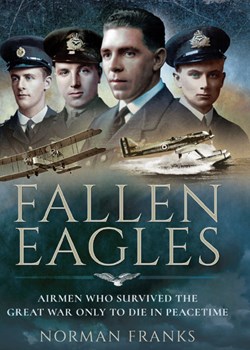 In his introduction, Norman Franks states that he came across a list of RAF officers who died between the end of the First World War and the end of 1928 while surfing the internet. Rationalising the lists, he identified ninety-three who had distinguished themselves in the war only to die in the peace 'they had so valiantly fought for.'
The result is this fascinating and informative book. Five chapters cover the period 1918-1940 and offer biographies of the men who died and the circumstances of their deaths. Those who died before the end of 1918 seem especially poignant. Captain Stearne Edwards who died a day after the Armistice in an accident was a distinguished RNAS pilot, awarded DSC and bar with 16 aerial victories. Two days later, Captain D'Urban Armstrong, a pilot of exceptional aerobatics skill was killed. An RFC/RAF pilot, he had a DFC and five victories. The last was Captain Fox-Russell MC, who died a week after the Armistice.
The following years tell of flying accidents, pilot errors or mechanical failures, test flights, record breaking attempts, air racing and flying with the RAF in the 1920s and 30s. Particularly tragic were the fates of Captain L D R McDonald and Lieutenant H C E Bocket-Pugh with 84 Squadron in Baghdad flying DH 9a's. In September 1920, they were detailed to drop food supplies to a besieged British gunboat, Greenfly, twenty-three miles from Baghdad. Although forced down by ground fire, the boat's crew saw McDonald and Brocket-Pugh wade safely ashore. The Arabs later reported that one was almost immediately shot, stabbed to death, stripped and mutilated. Although Brocket-Pugh is reported to have offered the Arabs a large sum of money to take him safely to Greenfly he was shot and badly mutilated. Both were left unburied and the crew of the Greenfly later surrendered. Other deaths were equally tragic or bizarre. On the night of 19/20 May 1917, Edward Turner and gunner Henry Barwise earned DFCs flying a Bristol Fighter which brought down a Gotha bomber over England. On December 28th 1922, Turner, serving with 27 Squadron in India was hit by a bomb released by another aircraft while bombing hostile tribesmen.
The book is full such anecdotal details; James Slater, another decorated pilot, with 24 victories, was killed in 1925 at a high-spirited Mess-party when he was repeatedly tossed in a blanket. He put a grubby hand print on the ceiling which, in remembrance, remained on the ceiling for many years.
The list of highly decorated Great War pilots killed in the 1920's includes: Sammy Kinkead DSO, DSC and Bar, DFC and Bar, 32 victories, killed flying a Supermarine S5 preparing for the 1928 Schneider Trophy race; Lieutenant Colonel George 'Budgie' Henderson, an early RFC pilot, died flying socialites to a Le Touquet casino. (Henderson, his co-pilot, the Marquess of Dufferin, the Speaker of the Northern Ireland parliament, a Viscountess, a Baronet and the wife of a prominent business man, were all killed).
The quality of the illustrations disappoints. Whilst those of the pilots – a research task in itself – are fine, those of the aircraft are poor quality, with many duplications and a Nieuport is wrongly captioned as a Sopwith Camel. Nevertheless, Fallen Eagles is a fine and highly recommended effort by one of our most prolific aviation authors.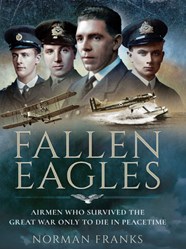 Fallen Eagles: Airmen Who Survived the Great War Only to Die in Peacetime. Pen & Sword, 2017 by Norman Franks
£25.00 hb. 244pp. fully illustrated throughout. Index.
ISBN 978 1 47387 966 6