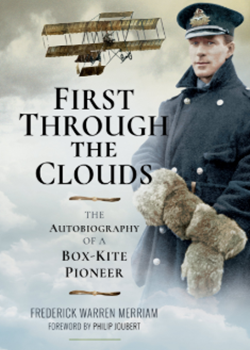 By Frederick Warren Merriam
Air World Books (Pen & Sword imprint) £19.99, 131pp, index.
ISBN: 978–152–672–616–2
Originally written in 1954 this is a memoir by one who, literally, saw the ups (above the clouds) and downs (Brooklands sewage farm) from the earliest days of flying training. It is a rare gem for vintage aviation buffs and thanks should go to The Aviation Historian team for ensuring that the book is available once again.
Merriam writes in the reserved but straightforward prose of his time to present an insight into the thoughts and attitudes prevailing in the earliest days of aviation. The text ranges from Merriam's early flying instruction and getting his own 'ticket' with the Bristol school in 1911, through the Great War – when he was the senior instructor at RNAS Chingford – and ends in the post war austerity period.
Although shy about an eyesight problem – and a curious name change – the simple honesty of his recollections about aviation, particularly pupil assessment, has a gentle charm. His extensive experience as an instructor sharpened his ability to assess people and he offers a welcome insight into the camaraderie and spirit of the pioneering flying community many of whom – Sopwith, Handley Page, Roe, Warneford, Bell–Davies and Alcock – went on to greater things.
As a recent Private Pilot's License student myself, his views on instruction and instructing will, I feel sure, be of interest to today's novice flyers – although his affinity for flying without being strapped in is not one I share! Well presented in hardback, with a clear type face and 50 original photographs printed on gloss paper and referenced, it represents good value for the discerning historian.
John Gilder