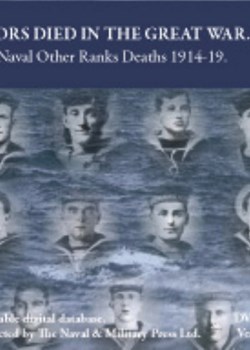 Geoff Bridger (Ed)
Naval and Military Press DVD-CDROM, £45 plus VAT
ISBN: 9781845749095
DVD Review by Niall Ferguson
DVD ROM RECOMMENDED SYSTEM REQUIREMENTS A PC running Windows 7, 8 10 or Vista with 4GB RAM installed and a 4X speed DVD drive. Please note this DVD-ROM is NOT Mac OS or Linux compatible. Price plus VAT
Those researching Royal Navy deaths in the Great War have long missed the naval equivalent of Soldiers Died 1914-18.  That omission is now cured - at least for ratings - officers must wait - with the appearance of this DVD-CDROM in the same series. The fact that it was transcribed from 'original records in a perilously damaged state.....' means that transcription errors have unavoidably crept in.  An example is Josephine Carr, a 'Clerk, shorthand typist', the first Wren to die in the line of duty when, travelling on duty between Dublin and Holyhead, she drowned when RMS Leinster was torpedoed by UB 123 on 10th October 1918 T he DVD shows her as serving as the only member of something called the NRNS whereas the CWGC site notes her to have been in the WRNS.
Deaths can be searched by ship and date.  My grandfather, great grandfather, and great uncle all served in the navy in the Great War and survived. My grandfather was on the C-class cruiser HMS Caledon at the Second Battle of the Heligoland Bight on 11th November 1917, when it was hit by one 12 inch shell from a German battleship. The database shows that four members of the crew were killed, including Ordinary Seaman John Carless, who was awarded a posthumous VC for staying at his gun when seriously wounded. The CWGC site lists five individuals, the four on the DVD, plus Signalman J/41221 William MacKenzie who, after some searching, I discovered as William McKenzie (different spelling) who died on HMS Maledon on that date; this despite the DVD introduction also claiming 'Naval & Military Press have had these fragile documents carefully transcribed and checked'.
That said, this DVD contains the records of nearly 44,000 individuals so the odd error is bound to slip in.  All in all, at a price equivalent to the petrol I would use for two trips to TNA at Kew, this is a resource I am glad to have until a better one comes along.