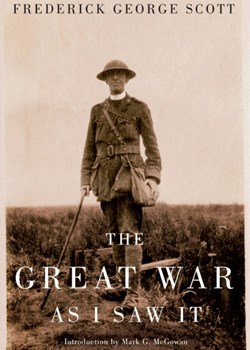 By F G Scott
£16.99 (Amazon price), 327pp, Glossary,
1 map.
ISBN: 978–077–354–425–3
Review by David Filsell
(This review first appeared in edition 109 of The Western Front Association magazine Stand To!) 
First published in 1922, when F G Scott's memories of war were fresh, his diaries and letters to hand, The Great War as I Saw It offers an impressive and frequently moving account of a padre who served with the Canadian 1st Division from before its embarkation for Europe in 1915 until virtually the end of the war when he was wounded. Despite being reprinted in 1934, the book has been almost forgotten. Even copies of the reprint are scarce. The Reverend Scott was 53, and judged too old to serve, when he travelled by ship to Britain with his division. He was 57 when war ended. His first action on arrival was to evade a soft posting in England by a manufactured 'misunderstanding'. He simply got on a ship to France to be with his 'boys'. Clearly he was never a man who found compromise easy.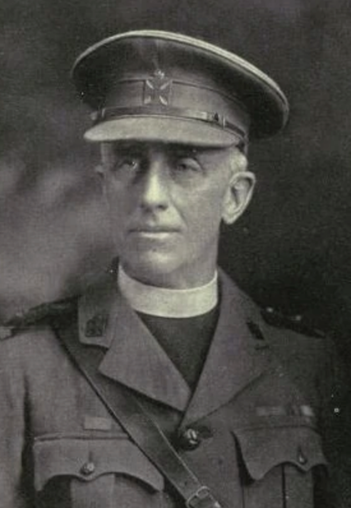 Because of his High Church beliefs Scott had faced doctrinal problems with the Anglican Church full on. He was to face them again in France and Belgium with the Army. His sense of humour is as clear in this book as his acute observations of war, of men and of civilians in war. His picture of events – whether serious, light hearted, humorous or religious – is clear, well–judged and compelling throughout.
Considered a 'minor poet' in his homeland – with, I think, justification – he regularly 'entertained' all ranks of his flock with both his sermons as well as his extraordinarily long recitations of his poems – often using the threat of a performance to get his own way on behalf of those in his 'parish'. His ministry was clear, understanding, and understandable, to those of all strands of Christian belief. Scott was a 'gather round' man, one whose regular trips to the front line were accompanied by cigarettes to hand out and spare tins of bully to share as well as hastily called services and confessions.
Like the best, the most genuinely respected and loved of padres, it seems clear that Scott was a man with no side. He was at home with the lads in the line as he was with their officers. He was equally competent in dealing with the brass, winning staff over to help in his work and administration as 'winning' a horse or two and a dog or two. And his habit of hitchhiking to be amongst his 'parish' proved 'God would provide' was true. He generally found a ride – on transport ranging from ASC trucks to chauffeured generals' staff cars. Later a motorcycle combination and 'driver' was 'won' to get Scott around 'his' flock.
Three of Scott's sons also served with the Canadian Army. One survived the war relatively safely, another lost an eye, and a third was killed in action.
His love of his children was marked by locating the body and marking it out in no man's land in sight of the German trenches. Broadly, the new introduction to The Great War as I Saw It by Mark McGowan to Scott's work is valuable. However it is also, in part, sadly mealy mouthed in averring to and seeking to justify – and soften – some of Scott's contemporary views, opinions and statements. These McGowan clearly considers can now be judged inappropriate; be dubbed politically incorrect. His apologia is misguided, unnecessary and inelegant.
Scott was by birth and upbringing Victorian.
Like most Canadians he felt a loyalty, a sense of duty, to Mother England. In judging some heathens he did so in an age when people did, felt and said things differently – even Christian ministers. Neither this book nor the words of Reverend Frederick need, much less deserve, any such nannying. As the man said 'The past is a foreign country'. Those in  the ranks, 'the heroes' of the Great War as we now dub all in the military, were blunter, harder men. This text and Reverend Frederick George Scott needs no excuses.
Without doubt this is a welcome reprint of a sharp, moving and important account of war by an impressive man who lived through much of it. It deserves a wide readership.
[Members of the WFA receive the magazine Stand To! three times a year as part of their membership].