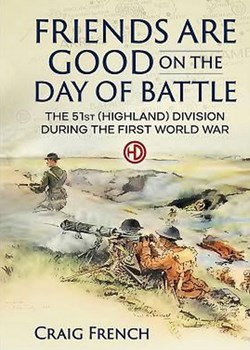 Review by Bob Wyatt.
Friends are Good on the Day of Battle, an important evaluation of the 51st (Highland) Division, is the is the latest of several books about the formation which began with in 1920s  with the substantial and quite reliable History of the Highland Division by Major Bewsher and culminated in Campbell's Empire of Destruction in 2013.
With its HQ at Perth, this TF Division, which recruited from the Scottish Highlands, was mobilised on 5th August 1914 and shortly afterwards moved south to Bedford. By May 1915 they were on the Western Front where they served with great credit until the war ended. Craig French takes us through the changes which took place and the performance of the Division as a fighting unit. It provides detail of command, control and organisation using a wide range of sources (many not considered before). Consequently, several neglected themes have been brought into sharp focus and inaccurate assumptions corrected.
The chapters cover their training, recruitment, Esprit de Corps and the Division's performance at Givenchy in 1915, Beaumont Hamel in 1916, Cambrai in 1917 and in March 1918 (during which it suffered 4,800 casualties resulting from the loss of its General) reorganisation. Enemy assaults caused critical damage, command and control failed and the 51st was both out-thought and out-fought by the enemy. Although for a time the Division was poorly trained this defect was soon overcome, under Maj Gen Harper.
There was a period when the Highlands TF recruiting area was unable to provide reinforcements and had to be extended to maintain the division's predominantly Scottish content to retain its esprit de corps and the strong identity which helped it to do so well at Beaumont Hamel.
Friends are Good on the Day of Battle is a book which one hopes will set others on a similar process when recording the history of a Great War Division. Its valuable examination of a wide range of primary sources, many of which have remained unexplored from the 8-page bibliography, are highly valuable.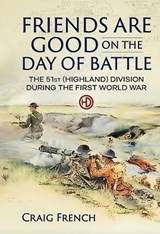 Friends are Good on the Day of Battle: The 51st (Highland) Division During the First World War by Craig French
Helion, £29.95, 2016, 224pp, maps, tables, bibliog., index.
ISBN: 978-11-911096-54-2