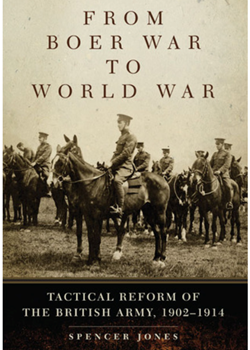 University of Oklahoma Press, 2012, £22.33, 314pp ISBN: 9–780–806–142–890 
Paddy Griffiths said that from the second day of the Battle of the Somme the British Army went through the steepest learning curve of its entire existence. The same could have been said, during the Second Boer War, of the Battle of Paardeberg where, although eventually triumphing, the British troops under General Roberts' Chief of Staff, Lieutenant General Herbert Kitchener suffered significant casualties from Boers concealed in trenches that had not been identified before the battle. Spencer Jones, Senior Lecturer in Armed Forces and War Studies at the University of Wolverhampton, and the Regimental Historian of the Royal Regiment of Artillery, looks at the lessons learned by the British Army during the Boer War – the only major combatant in the Great War to have fought a modern war with artillery, cavalry, and smokeless powder since 1870 – and examines which of those lessons were relevant to 1914–18, which had been forgotten and which proved irrelevant. 
Divided into five sections, following a brief section describing the 1899–1902 Boer War, the second section of the book deals with British Army doctrine and ethos and how they were modified as a result of the direct experience of the Boer War and observation of the Russo–Japanese War of 1904. That in turn is followed by further sections dealing in turn with the infantry, artillery and cavalry and concluding with a short summary. As one might expect, the cavalry versus mounted infantry debate that occurred between 1902 and 1914 is not as thoroughly covered as in Stephen Badsey's Doctrine and Reform in the British Cavalry 1880–1918, but, even so, there is additional information contained in this work. The section on artillery is, in this reviewer's opinion, particularly good, showing how experiences in South Africa caused the BEF to devalue the use of heavy artillery and indirect fire, whilst the infantry, having learned the necessity of entrenching properly in South Africa, had to relearn its importance 12 years later. This volume provides a good overall view of the changes resulting from the need for the British Army to develop from a colonial peacekeeping force to one able to deal with a European war against a highly trained and well–armed enemy, and the role the Boer War played in that transformation. 
Review by Niall Ferguson
[This review first appeared in Stand To! No.103 May 2015. Members receive three issues of Stand To! And three of our sister publication Bulletin each year. The entire archive of Stand To! Is available online to Members via their Member Login. Digital copies of both magazines are sent to our Digital Members.]