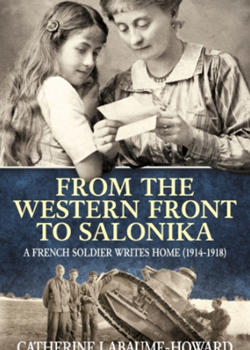 Helion & Co., £19.95 (£19.75 direct from publisher), 
soft back, 182pp, ills in page throughout, 6 appendices, indices. 
ISBN: 978–191–109–628–3 
[This review first appeared in Stand To! 109 June 2017 (Special Edition)]
It is impossible to know why, that since the Great War, so few translations of French accounts of war – fact or fiction – have been offered by British publishers. As War Books, the redacted translation of Jean Norton Cru's important critique of French writing on the conflict Temoins (Witnesses) underlines, those who cannot read French have missed many works of value.
Whilst From the Western Front to Salonika could hardly be judged a work of great literary merit, as far as this reviewer is concerned its English publication was a welcome change from the welter of similar British works. The view of war and the letters home about his service on the Western Front, in the oft forgotten Salonika campaign and with tanks are different in tone to most of those by Tommies in English language works: seemingly warmer, more confident, more vibrant. 
As a 17–year–old volunteer in 1914 – and one of the few recruits capable of driving – he served first in a transport squadron in Flanders, then in a similar role in Salonika until early 1917 before teaching tank driving and instructing and entering action in late 1918. On 15 October that year he was wounded, losing an eye whilst gaining a Médaille Militaire and the Croix de Guerre. In each of his letters he reveals much of interest about a French soldier's view of war. While generally seeking positivity, yet often incapable of sustaining it, Pierre Suberviolle's highly affectionate, loving, letters home reveal that war behind the front lines had its very own harsh tests.
This is no story of front line daring do, the letters reveal the appalling conditions and the incompetence of Salonika, the intense cold, the heat and disease and the daily irritations of war. Frequently amusing are the writer's regular pleas home for cash – regularly '100 Francs please' here, '200 Francs please' there – the consequence of the theft of his money, financial incompetence or women and his ludicrous attempts to disguise his financial ineptitude. 
First published in France in 2011 this translation is a worthwhile addition to the short list of works on the French at war…written in English. 
Review by David Filsell