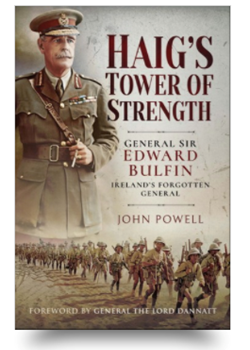 £25, Pen & Sword, 294pp, 
37 photographs, 10 maps. 
ISBN 1526722607.
What a pleasure it is to say that this is a well written biography of a First World War general who had a good war! Edward Bulfin was not well known, save to specialists, until a seminal article by Michael LoCicero in Stemming the Tide (edited by Spencer Jones, Helion: 2013) correctly identified him as one who had distinguished himself as a brigade commander in 1914. 
Bulfin was a highly competent infantryman. He was commissioned into the Princess of Wales' Own (Yorkshire) Regiment, which he was later to see transformed into The Green Howards. He saw active service prior to 1914 in Burma and South Africa, both before and during the Boer War, in which he served on the staff and commanded a mobile column. After the Boer War he served on the Aldershot staff and returned to South Africa for a further four years before being promoted to brigadier in June 1911. 
Initially, he commanded the Essex Infantry Brigade, part of the newly formed Territorial Force. In June 1913 he was given the plum job of commanding the regular 2nd Infantry Brigade. It was a remarkable achievement for an officer who had not been to the Staff College, not commanded an infantry battalion or held a position on the General Staff or at the War Office. 
The author, himself an experienced infantry officer, from Bulfin's own regiment, makes the point that '... he was among an elite band of officers'. He notes '... in today's army the premier deployable division would be led by the rising stars of the service, carefully groomed for the role by having gained experience in key staff and regimental appointments... ideally on active service'. 
The soundness of his selection was to be seen in France and Belgium during 1914. As part of Haig's I Corps, Bulfin's brigade played little part in the initial encounters with the Germans but in the advance to the Aisne had a major baptism. In the First Battle of Ypres Bulfin not only came into his own but was referred to as 'My tower of strength' by Douglas Haig. Throughout that struggle the BEF was desperately holding on and trying to find enough troops to man and hold the line against overwhelming numbers. Bulfin became an expert in defence. He knew the troops he had available and their location, and deployed them in mounting local counterattacks. His performance was recognised by his promotion to major general. Horne, promoted at the same time, said, 'It is a compliment to be coupled with him'. 
The author makes 1st Ypres comprehensible, insofar as it ever can be, and demonstrates Bulfin's indispensability. However, on 1 November 1914 he was wounded and invalided to England. There followed his one less–than– successful appointment.
He took command of 28th Division before he was fully fit, or his division was fully ready for battle. It was a division in name only. While the troops were regular soldiers, its staff were hastily scraped together and simply not up to the job. At the Second Battle of Ypres Bulfin was certainly no worse than other divisional commanders, although at Loos, in September 1915, he suffered for having to serve under Gough as GOC I Corps. Finally, after standing up to Gough's bullying he was sent home. Put simply, Bulfin had never had the chance to recover from his exertions and wounds of 1914 – 28th Division was not ready for combat, and Gough was pig–headed, and would not listen. Bulfin was sent home, not in disgrace, but certainly under a cloud. 
At this point Bulfin could well have disappeared into obscurity, as a man promoted above his ability. Instead, he was given command of the 60th (London) Division, originally a second–line TF Division, but by early 1916 being equipped and trained for the Western Front. This was a chance again for Bulfin to show his grasp of infantry tactics, and he took it boldly, so the division arrived in August 1916, not into the maw of the Somme, but instead to Arras, where it did well. In October he took them to what he called 'the sump–pit' of Salonika, but in June 1917 the division was moved again, this time to Egypt and then to Palestine, arriving at much the same time as Allenby. 
It was Allenby who promoted Bulfin to become GOC XXI Corps. When combined with Chetwoode, commanding the other infantry corps – XX Corps – and Chauvel, commanding the Desert Mounted Corps, they made for a fine team which responded to Allenby's use of both stick and carrot. At Gaza all three corps commanders played their respective parts superbly, and even better at Megiddo where Bulfin's corps had the difficult task of breaking open the Turkish line, swinging the door open and holding it there while the cavalry swept through to the open plains beyond, destroying the Turkish armies. 
Bulfin enjoyed soldiering under what we may have called Allenby Mark II, which followed the nightmare of serving under Gough. It allowed him to display all his abilities: detailed preparation, administrative care, steadfastness and a tenacious fighting spirit. It was a fitting climax to his fighting career. 
This well–presented Pen and Sword volume is expertly written. It enjoys good maps and well–chosen, well–captioned illustrations. It also benefits from an introduction by another Green Howard, General Lord Dannat. He makes the point that without the Herculean efforts of the Bulfins of the Great War, both Haig and Allenby would never have succeeded. Warmly recommended.
Review by Robin Brodhurst