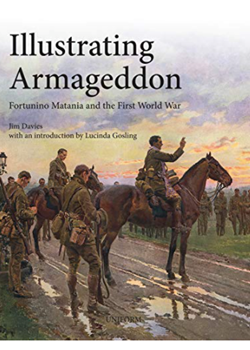 By Jim Davies with a forward by Lucinda Gosling
Unicorn Press
£30.00 hb, 416pp,
ills in monochrome and colour, no index, notes or refs. 
ISBN: 9781912690015 
[This review appears in the current issues of Stand To! No.119 October 2020. It is one of 13 full reviews of books about or related to the First World War in this edition. Members receive three copies of our journal Stand To! and three copies of our member magazine Bulletin each year, as well as sundry 'specials' - there are a further two 'Special' editions of Stand To coming out in November]. 
A few things become clear on even the most cursory examination of Illustrating Armageddon Fortunino Matania's prolific work as an artist of the Great War – not least its superb print, paper, binding and production quality, the artist's huge artistic ability and the author's love of his subject. 
Here, for the first time, every piece of all of the artist and illustrator's Great War work, 17 in colour, is shown in single volume, each with a valuable contextualisation of the work and Matania.
As the inside cover–note of Jim Davies' book states the artist, "… was blessed with a photographic memory … was able to work at great speed, producing illustrations that were unnervingly photographic in their realism."
The note also highlights the accuracy and the authenticity of the artist's work, as well as his ability to confront danger, his habit of interviewing witnesses to actions. He amassed a large collection of weapons and uniforms to ensure the accuracy of his work (which after the end of the Great War drew the interest of the police). 
Thanks to the expert advice and guidance of David Cohen, I work at a desk in my office with a view of two excellent Matania prints. Here, however, in Jim Davies' book are splendidly printed reproductions of every magazine work which the artist completed for the weekly magazine The Sphere. They range from the August 1st and the Austro Serbian Crisis – an illustration of Austrian Forces on the Dividing Line in November 1914 – to, fittingly, Lowering the body of the Unknown Warrior into the Ground: The Opening of the Burial Service published on 20th November 1920 in The Sphere magazine. 
None of the illustrations disappoint, rather, each reinforces the quality, insight and perception of the artist's work and his clear and perceptive eye for detail and realism in his work. 
Illustrating Armageddon, a beautifully produced, illustrated and annotated work and a valuable addition to our knowledge of a superb illustrator and artist of the Great War. 
Review by David Filsell